This page is dedicated to the research why people are optimistic or pessimistic about certain things and how this is influenced by human nature, the media, and social circumstances.
We are interested in this topic also because it is closely linked to our motivation for publishing Our World in Data. We face big global problems, but living conditions around the world have improved in important ways; fewer people are dying of disease, conflict and famine; more of us are receiving a basic education; the world is becoming more democratic; we live longer and lead healthier lives.
Why is that we – especially those in the developed world – often have a negative view on how the world has changed over the last decades and centuries? Why we are so pessimistic about our collective future?
All our charts on Optimism and Pessimism
Individual optimism and social pessimism
Information matters: We are not only pessimistic about the future, we are also unaware of past improvements
Declinism
There are three main reasons we should try to combat social pessimism and declinism. The first reason is simple; indicators of living standards are significantly improving around the world. By monitoring and researching these changes we can identify ways in which progress can be achieved. Over the long-run, say 50-100 years, human progress has been staggering with the benefits not confined to the richest or most powerful. The second reason is that if our perceptions of the reality are wrong, we can end up prioritising the wrong things and making ineffectual change. Finally, being optimistic can be good for your health, while having a pessimistic outlook can be detrimental to your health.
Perception and Priority
The public perception of these indicators matters because it directly influences the priorities of voters in democratic countries and politicians. If, as in the example above, the public believes crime is increasing, it is likely that it demands more policing not for a reason grounded in reality, but for an imagined worsening of the society they live it. This is one reason why incorrect public perceptions can be a problem.
The following figures underline just how sizable these effects can be. The first shows how spending on crime has moved with the public's confidence in the government's ability to crack down on crime. As the public's confidence fell, spending on crime increased and recorded crime fell; without any uptick in the public's confidence.
Public confidence, recorded crime and government spending in the UK, 1997-2007 – Ipsos MORI (2008)16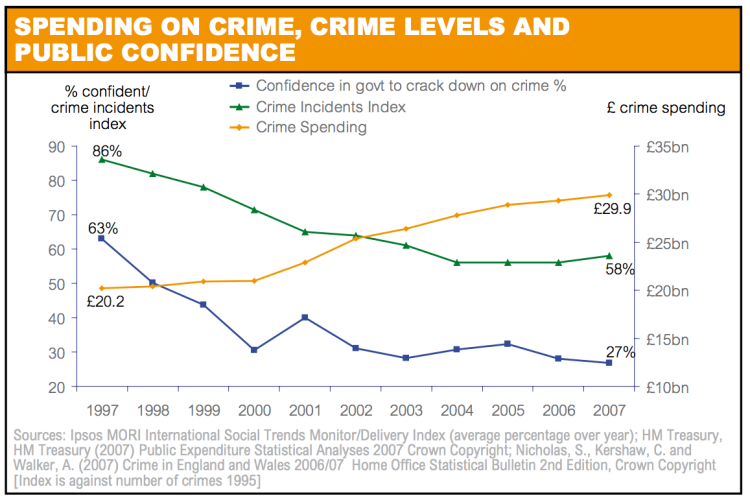 One contributing factor to some of the widespread misinformation seems to be the content consumed through media channels.
Of those who believed crime was increasing, more than half suggested that information on TV was a reason they believed there was more crime. In addition to this, almost half suggested that what they read in newspapers was a factor.
Research conducted by Stefano DellaVigna and Ethan Kaplan highlights the degree to which the media can influence voting behaviour.18
DellaVigna and Kaplan looked at how the introduction of Fox News between 1996 and 2000 in different towns affected voting patterns and turnout in the Presidential election of 2000. They find "a significant effect of the introduction of Fox News on the vote share in Presidential elections between 1996 and 2000. Republicans gained 0.4 to 0.7 percentage points in the towns that broadcast Fox News. Fox News also affected voter turnout and the Republican vote share in the Senate. Our estimates imply that Fox News convinced 3 to 28 percent of its viewers to vote Republican, depending on the audience measure. The Fox News effect could be a temporary learning effect for rational voters, or a permanent effect for nonrational voters subject to persuasion."
Another dimension to this debate is the extent to which the perceived terrorism threat affects the willingness of individuals to trade-off civil liberties.19
Darren Davis and Brian Silver find that "the greater people's sense of threat, the lower their support for civil liberties." This effect is attenuated by the people's trust in government but fairly consistent across nearly all political affiliations and demographics.
TV and newspapers are largest factors driving crime perceptions in the UK, 2007 – Ipsos MORI17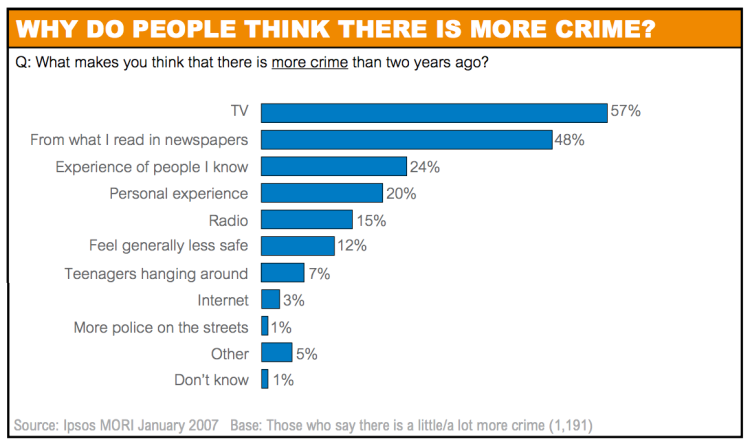 Things are getting better and it is good to know that
With all the negative news stories and sensationalism that exists in the media it may be hard to believe things are improving. These events can be contextualized as short-term fluctuations in an otherwise positive global trend.
Quantifying this progress and identifying its causes will help researchers develop successful strategies to combat the world's problems. We discuss many important improvements in our history of global living conditions.
The relation between health and optimism
There is a large literature that links an optimistic outlook on life to positive health outcomes. While it is interesting to read and think about this, one should be prudent not to over-interpret these findings and consider carefully if it is possible to think of these relationships as causal:
Studies have found a link between an individual's optimism/pessimism (measured by surveys) and their health outcomes. Julia Boehm and Laura Kubzansky reviewed over 200 published studies to investigate the link between a positive psychological outlook (optimism, life satisfaction and happiness) and cardiovascular health.20
They found that a positive psychological outlook was strongly associated with a reduced risk of cardiovascular disease: "For example, the most optimistic individuals had an approximately 50% reduced risk of experiencing an initial cardiovascular event compared to their less optimistic peers."21
Boehm et al. (2011) also find a link between optimism and the composition of cholesterol in the blood. Optimistic individuals had higher levels of good cholesterol and lower levels of triglycerides.22
Further research using data from the Women's Health Initiative found that over an eight year period, the most optimistic women had a 9% lower risk of developing coronary heart disease and a 14% lower risk of dying from any cause.23 Similar results were also found by researchers writing in the Archives of General Psychiatry; using data from the Netherlands, they found that the most optimistic individuals had a 55% reduced risk of all-cause mortality and a 23% reduced risk of cardiovascular death.
Dire predictions for the future are nothing new. Indeed we can go back centuries or even millennia and find plenty of examples of pessimistic accounts of the future of the world.
This infographic shows a series of predictions for the year in which the world will end – from religious figures to scientists like John Napier and Isaac Newton.
End of the world predictions – The Economist24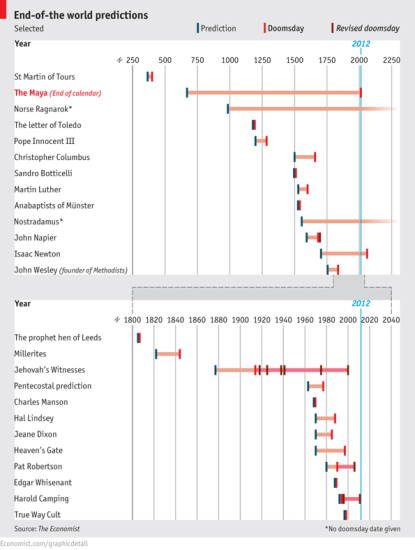 Predictions of dire futures are also common in fictional literature.
This beautiful visualization presents a time of predictions of the future as foretold in novels.
The future as foretold in the past – Giorgia Lupi and Accurat25