All our charts on Global Extreme Poverty
Overview of this entry
Most people in the world live in poverty. 85% of the world live on less than $30 per day, two-thirds live on less than $10 per day, and every tenth person lives on less than $1.90 per day. In each of these statistics price differences between countries are taken into account to adjust for the purchasing power in each country.
The research here is is concerned with the living conditions of the worst off: those who live in 'extreme poverty' as defined by the United Nations. The World Bank, which is part of the UN, is the main source for global information on extreme poverty today and it sets the 'International Poverty Line'. The poverty line was revised in 2015—since then, a person is considered to be in extreme poverty if they live on less than 1.90 international dollars (int.-$) per day. This poverty measurement is based on the monetary value of a person's consumption. Income measures, on the other hand, are only used for countries in which reliable consumption measures are not available.
A key difficulty in measuring global poverty is that price levels are very different in different countries. For this reason, it is not sufficient to simply convert the consumption levels of people in different countries by the market exchange rate; it is additionally necessary to adjust for cross-country differences in purchasing power. This is done through Purchasing Power Parity adjustments (explained below).
It is important to emphasize that the International Poverty Line is extremely low. Indeed, 'extreme poverty' is an adequate term for those living under this low threshold. Focusing on extreme poverty is important precisely because it captures those most in need. However, it is also important to point out that living conditions well above the International Poverty Line can still be characterized by poverty and hardship. Accordingly, in this entry we will also discuss the global distribution of people below poverty lines that are higher than the International Poverty Line of 1.90 int.-$. But relying only on higher poverty lines would mean that we are not keeping track of the very poorest people in the world and this is the focus of this entry.
Poverty is a concept intrinsically linked to welfare – and there are many ways in which one can try to measure welfare. In this entry we will focus mainly (though not exclusively) on poverty as measured by 'monetized' consumption and income, following the approach used by the World Bank. But before we present the evidence, the introductory sub-section here provides a brief overview of the relevance of this approach.
Global poverty is one of the very worst problems that the world faces today. The poorest in the world are often hungry, have much less access to education, regularly have no light at night, and suffer from much poorer health. To make progress against poverty is therefore one of the most urgent global goals.
The available long-run evidence shows that in the past, only a small elite enjoyed living conditions that would not be described as 'extreme poverty' today. But with the onset of industrialization and rising productivity, the share of people living in extreme poverty started to decrease. Accordingly, the share of people in extreme poverty has decreased continuously over the course of the last two centuries. This is surely one of the most remarkable achievements of humankind.
Closely linked to this improvement in material living conditions is the improvement of global health and the expansion of global education that we have seen over these last two centuries. We also discuss the link between education, health, and poverty in this entry.
During the first half of the last century, the growth of the world population caused the absolute number of extremely poor people in the world to increase, even though the share of people in extreme poverty was going down. After around 1970, the decrease in poverty rates became so steep that the absolute number of people living in extreme poverty started falling as well. This trend of decreasing poverty—both in absolute numbers and as a share of the world population—has been a constant during the last three decades. But as we highlight in the first section of this entry it is unfortunately not what we can expect for the coming decade. It is the fact that still almost every tenth person lives in extreme poverty and the slowing progress against extreme poverty that motivate this entry.
Related writing:
Economic growth – How do economies become more productive? Understanding how and when countries achieved economic growth is crucial to understand how some countries left the worst poverty behind and how other countries can follow.
Income inequality – It is not just the average income that matters for whether or not people live in poverty but how incomes are distributed.
Global economic inequality – Our entry on the global distribution of incomes.
Is the world on track to end extreme poverty by 2030?
Growth of the global middle class and falling extreme poverty
Over the course of the last generation more than a billion people left the most destitute living conditions behind. Can we expect this progress to continue over the coming decade?
The world economy is growing. In less than a generation the value of the yearly global economic production has doubled.1
Increasing productivity around the world meant that many left the worst poverty behind. More than a third of the world population now live on more than 10 dollars per day. Just a decade decade ago it was only a quarter. In absolute numbers this meant the number of people who live on more than 10 dollars per day increased by 900 million in just the last 10 years.2
This expansion of the global middle class went together with progress in reducing global poverty – no matter what poverty line you want to compare it with, the share of the world population below this poverty line declined.3 In 1990 international organizations adopted a definition of poverty in line with the poverty lines in low-income countries. In the latest adjustment the international poverty line is set to the threshold of living on less than $1.90 per day. That is a very low poverty line and focusses on what is happening to the very poorest people on the planet.4
The same international organizations that set the poverty line made it a global goal to end extreme poverty. Goal number one of the Sustainable Development Goals (SDGs), agreed on by all nations in the world, is the "eradication of extreme poverty for all people everywhere". The deadline for achieving this goal is 2030. Can we expect to achieve this?
Half a billion projected to live in extreme poverty in 2030
Research teams from the World Bank, ODI, the IHME, and Brookings jointly with the World Data Lab made independent projections for what we can expect for global poverty during the SDG era.
While the projections differ in methodology and underlying assumptions, it's striking how much they align in their projection for what to expect in the coming decade if the world stays on current trajectories. All expect some positive development – the number of people in extreme poverty is expected to continue to decline – but all also agree on the bad headline: the world is not on track to end extreme poverty by 2030.
The chart shows the projection made by the development research team at the World Bank. This projection answers the question of what would happen to extreme poverty trends if the economic growth of the past decade (2005–15) continued until 2030:5 The number of people in extreme poverty will stagnate at almost 500 million.
This is not because it is not possible to end extreme poverty. In more than half of the countries of the world the share of the population in extreme poverty is now less than 3 percent.6
In the same countries the huge majority – even in today's richest countries – lived in extreme poverty just a few generations ago.
In fact, the big success over the last generation was that the world made rapid progress against the very worst poverty. The number of people in extreme poverty has fallen from nearly 1.9 billion in 1990 to about 650 million in 2018.7
This was possible as economic growth reached more and more parts of the world.8 In Ethiopia, India, Indonesia, Ghana, and China more than half the population lived in extreme poverty a generation ago. But after two decades of growth the share in extreme poverty more than halved in all these countries.
Poverty was not concentrated in Africa until recently. In 1990 more than a billion of the extremely poor lived in China and India alone. Since then those economies have grown faster than many of the richest countries in the world and did much to a reduction of global inequality. The concentration of the world's poorest shifted from East Asia in the 1990s to South Asia in the following decade. Now it has shifted to Sub-Saharan Africa. The projections suggest the geographic concentration of extreme poverty is likely to continue. According to the World Bank forecasts 87% of the world's poorest are expected to live in Sub-Saharan Africa in 2030 if economic growth follows the trajectory over the recent past.
Poverty declined during the last generation because the majority of the poorest people on the planet lived in countries with strong economic growth. This is now different.
Stagnation for the poorest
Many of the world's poorest today live in countries that had very low economic growth in the past.9 Consider the case of Madagascar: In the last 20 years GDP per capita has not grown; and the number in extreme poverty increased almost one-for-one with total population.
Development economists have emphasized this for some time: The very poorest people in the world did not see their material living conditions improve.10 This fact is surely one of the biggest development failures of our time. Yet the stagnation of the world's poorest countries is not as widely known as it should be – one reason is that we are not paying attention to poverty lines low enough to focus on what happens to the very poorest. This is an important reminder that one poverty line is not enough and we need to rely on several poverty lines – higher and lower than the international poverty line – to understand what is happening.
A rising global middle class and stagnation of the world's poorest will also mean that a new divide at the lowest end of the global income distribution is opening up. We miss this if we only follow what is happening to the rapidly emerging global middle class or if we rely on global poverty lines that are not capturing what is happening to the poorest.
The projections suggest that over the coming decade the stagnation at the bottom will become very clear. The majority of the world's poorest today live in economies that are not growing and half a billion face the prospect to remain stuck in extreme poverty.
This is terrible news.
Policy and growth
These projections describe what we have to expect on current trends. But current trends don't have to become future trends: all countries that left extreme poverty behind had a moment at which they broke out of stagnation.
The second big lesson from the history of extreme poverty is that it is the growth of an entire economy that lifts individuals out of poverty. Key for ending extreme poverty globally will be that the poorest countries achieve the difficult task of economic growth.
But it's not only about macroeconomic performance. Social policy and direct household-level support, too, make an important difference. Even in very poor economies there is scope for targeted policies to support the very poorest. In an analysis of how today's richest countries left extreme poverty behind Martin Ravallion emphasizes the role the expanded social protection policies played at the time.11
The most important task in our time is to ensure that the living conditions of the world's poorest improve and to end extreme poverty. We know that it is possible; we have done it many times in the past.
The big success of the last generation was that global extreme poverty declined rapidly. But many are still very poor and progress against extreme poverty is urgently needed. However, we are currently far off track to ending extreme poverty – we expect half a billion people to still live on less than $1.90 per day by 2030. To ensure that 'no one is left behind' as the SDG agenda promises, this is where we need to focus our efforts.
It's not just a concern until 2030: without rising incomes in the worst-off places extreme poverty will remain a reality for millions.
Extreme poverty in the broader context of well-being
There are many ways in which researchers and policymakers try to measure welfare. In this entry we focus mainly on welfare as measured by 'monetized' consumption and income, following the approach used by the World Bank. However, as we emphasize throughout, this is only one of many aspects that we need to consider when discussing poverty. In other entries in Our World In Data we discuss evidence that allows tracking progress in other aspects of welfare that are not captured by standard economic indicators. This broad perspective on global development is at the heart of our publication.
The practice of measuring welfare via consumption and income has a long tradition in economics. Many classic textbooks and papers provide details regarding the conceptual framework behind this (for a basic technical overview see Deaton and Zaidi 2002);12 and by now there is also an extensive literature discussing various important points of contention (see Ch 2. in Atkinson 2016 for a brief recent overview).13
Alternative starting points for measuring welfare include subjective views (e.g. self-reported life satisfaction), basic needs (e.g. caloric requirements), capabilities (e.g. access to education), and minimum rights (e.g. human rights).
These alternative notions of welfare play an important role in academia and policy, and it is necessary to bear in mind that they are interrelated. Indeed, as we explain below, many of these concepts indirectly enter the methodology used by the World Bank to measure poverty; for example, by helping set the poverty lines against which monetized consumption is assessed.
This table, from Atkinson (2016) provides a comparison of the 'money-metric approach' used by the World Bank vis-à-vis the most common alternatives.
The most important conclusion from the evidence presented in this entry is that extreme poverty, as measured by consumption, has been going down around the world in the last two centuries. But why should we care? Is it not the case that poor people might have less consumption but enjoy their lives just as much—or even more—than people with much higher consumption levels?
One way to find out is to simply ask. Subjective views are an important way of measuring welfare.
This is what the Gallup Organization did. The Gallup World Poll asked people around the world what they thought about their standard of living—not only about their income. The following chart compares the answers of people in different countries with the average income in those countries. It shows that, broadly speaking, people living in poorer countries tend to be less satisfied with their living standards.
This suggests that economic prosperity is not a vain, unimportant goal but rather a means for a better life. The correlation between rising incomes and higher self-reported life satisfaction is shown in our entry on happiness.
This is more than a technical point about how to measure welfare. It is an assertion that matters for how we understand and interpret development.
First, the smooth relationship between income and subjective well-being highlights the difficulties that arise from using a fixed threshold above which people are abruptly considered to be non-poor. In reality, subjective well-being does not suddenly improve above any given poverty line. This makes using a fixed poverty line to define destitution as a binary 'yes/no' problematic. Therefore, while the International Poverty Line is useful for understanding the changes in living conditions of the very poorest of the world, we must also take into account higher poverty lines reflecting the fact that living conditions at higher thresholds can still be destitute.
And second, the fact that people with very low incomes tend to be dissatisfied with their living standards shows that it would be incorrect to take a romantic view on what 'life in poverty' is like. As the data shows, there is just no empirical evidence that would suggest that living with very low consumption levels is romantic.
A disregard for or disinterest in poverty estimates that are calculated on the basis of low consumption and income levels is partly explained by the fact that it can be very difficult for people to imagine what it is like to live with very little. Even economists who think a lot about income and poverty find it difficult to understand what it means to live on a given income level. It is just hard to picture what life is like when all you know is a "dollar-per-day" figure.
To address this, Anna Rosling Rönnlund put together a captivating, visual project at Gapminder.org in which she portrays the living conditions of people living at different income levels. In Dollar Street you can find portraits of families and see how they cook, what they eat, how they sleep, what toilets they have available, what their children's toys look like, and much more.
Dissatisfaction with standard of living vs GDP per capita14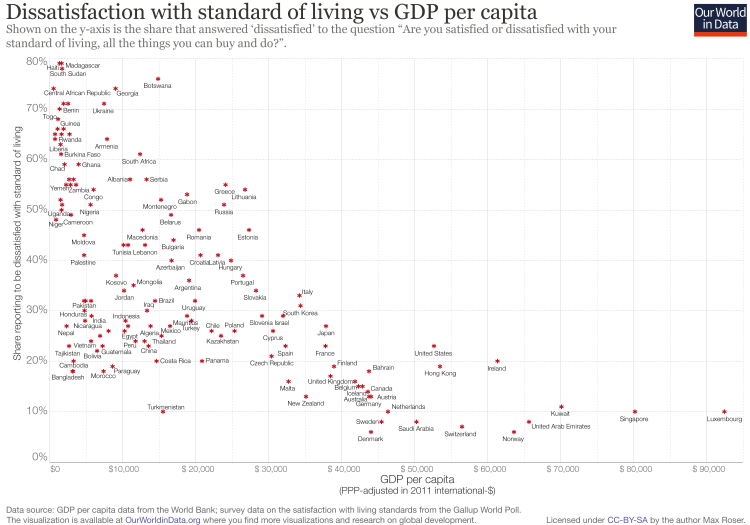 The evolution of extreme poverty, country by country
The most straightforward way to measure poverty is to set a poverty line and to count the number of people living with incomes or consumption levels below that poverty line. This is the so-called poverty headcount ratio.
Measuring poverty by the headcount ratio provides information that is straightforward to interpret; by definition, it tells us the share of the population living with consumption (or incomes) below some minimum level.
The World Bank defines extreme poverty as living on less than 1.90 int.-$. In the map we show available estimates of the extreme poverty headcount ratio, country by country.
The map shows the latest available estimates by default, but with the slider (immediately below the map) you can explore changes over time. You can also switch to the 'chart' tab to see the change over time for individual countries or world regions; or you simply click on a country to see how the poverty headcount ratio has changed.
Estimates are again expressed in international dollars (int.-$) using 2011 PPP conversion rates. This means that figures account for different price levels in different countries, as well as for inflation.
Extreme poverty, as defined by the World Bank, is indeed extreme – living on $1.90 per day is very difficult. Hence, it is both interesting and important to measure poverty with higher poverty lines. The World Bank also reports poverty headcount ratios using a higher line at 3.20 int.-$, and the map shows these estimates.
The intensity of poverty – the poverty gap
Measuring poverty through headcount ratios does not capture the intensity of poverty—individuals with consumption levels marginally below the poverty line are counted as being poor just as individuals with consumption levels much further below the poverty line.
The most common way to deal with this is to measure the shortfall from the poverty line, the amount of money required by a poor household to reach the poverty line.
The 'poverty gap index'—a common statistic routinely estimated by the World Bank—takes the mean shortfall from the poverty line, and divides it by the value of the poverty line. It tells us the fraction of the poverty line that people are missing, on average, in order to escape poverty.
The map here plots estimates for the poverty gap index, country by country.
There is a strong correlation between the incidence of poverty and the intensity of poverty: sub-Saharan Africa, where the share of people below the poverty line is higher, is also the region where people tend to be furthest below the poverty line.
Interestingly, the correlation is very strong, but is far from perfect. For example, Burkina Faso and Cote d'Ivoire have relatively similar poverty gaps (the mean shortfall in 2019 was around 7% of the poverty line in both countries), but they have very different poverty rates (the share of population in poverty in Burkina Faso was 32.8%, while in Cote d'Ivoire it was 22.1%).
As discussed above, the poverty gap index is often used in policy discussions because it has an intuitive unit (percent mean shortfall) that allows for meaningful comparisons regarding the relative intensity of poverty. But given that the poverty line is very low, and some countries have more poor people than others, it's often easy to lose perspective on the actual absolute magnitude of the numbers we are dealing with.
The two visualizations show the absolute yearly monetary value of the poverty gap, for the world (top chart) and country by country (bottom chart). The numbers come from multiplying the poverty gap index, by both the poverty line and total population.
As we can see, the monetary value of the global poverty gap today is about half of what it was a decade ago. This shows that in recent years we have substantially reduced both the incidence and the intensity of poverty.
Historical poverty around the world
Historical poverty in today's rich countries
The evolution of poverty by world regions
Global poverty relative to higher poverty lines
How much does the reduction of falling poverty in China matter for the reduction of global poverty?
The (mis)perceptions about poverty trends
How many poor people live in each country?
The global incidence of extreme poverty has gone down from almost 100% in the 19th century, to 10.7% in 2013. While this is a great achievement, there is absolutely no reason to be complacent: a poverty rate of 10.7% means a total poverty headcount of 746 million people.
Where do they live? The following visualization provides a breakdown of this figure by continent and country.
These figures come from multiplying estimates of poverty rates by the corresponding estimates of total population in those countries. The poverty rate estimates come from the World Bank (2016 PovCal release, using 2013 household survey data);26 and total population estimates come from the World Development Indicators.
As usual with World Bank estimates, poverty measures are adjusted to account for differences in price levels between countries. This is reflected in the 'international dollar' metric used to measure incomes.
As we can see, today, Africa is the continent with the largest number of people living in extreme poverty. The breakdown by continent is as follows:
383 Million in Africa
327 Million in Asia
19 Million in South America
13 Million in North America
2.5 Million in Oceania
0.7 Million in Europe
We can also see that India is the country with the largest number of people living in extreme poverty (218 million people), with Nigeria and the Congo (DRC) following with 86 and 55 million people, respectively.
These figures are the result of important changes across time. As we mentioned above in our discussion of regional trends, in 1990 Asia was the world region with the largest number of poor people (505 million in South Asia, plus 966 million in East Asia and the Pacific). However, with rapid economic growth in Asia over the past two decades, poverty in Asia fell more rapidly than in Africa.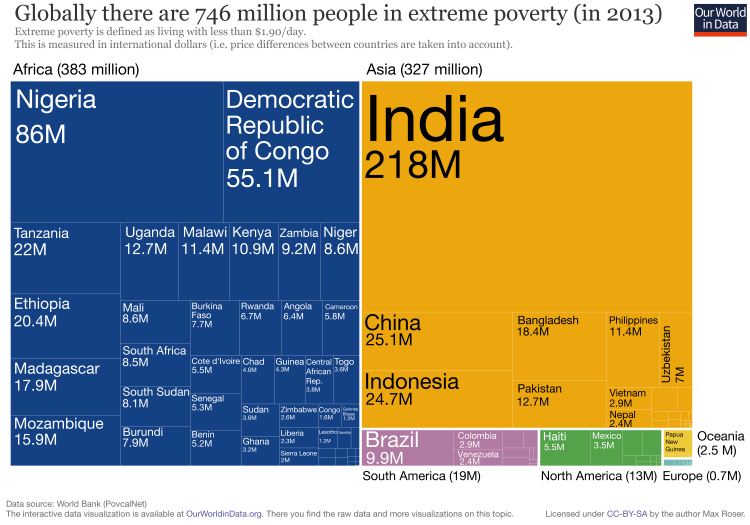 Who are the people living in extreme poverty?
The World Bank Group recently published a new set of poverty estimates, as part of their report Poverty and Shared Prosperity (2016). These estimates, explained in detail in two related background papers (Newhouse et al. 2016 and Castaneda et al. 2016)27 are consistent with the official World Bank poverty figures published in Povcal and the World Development Indicators, but they are disaggregated by key demographic characteristics such as age and educational attainment.
In order to produce disaggregated estimates, the World Bank relied on new data from the Global Micro Database that augments survey data in 89 countries, by providing a set of harmonized household characteristics, enriching the other survey instruments used by the World Bank to measure poverty.
According to the World Bank, the sample of 89 countries included in the Global Micro Database contains an estimated 84.2 percent of the population in low and middle income countries, and 82.1 percent of the child population.28 In this map you can see exactly which territories are covered. As the authors point out, while not every country is covered, this new set of estimates is the most updated and comprehensive source currently available to researchers and policymakers trying to understand the demographics of poverty.
The following visualization uses this source to provide a characterization of those who live in extreme poverty. As we can see, across all world regions the poor tend to be young and live in rural areas.
In the background paper accompanying the data, Castaneda et al. (2016) provide simple regression results and conclude that "After conditioning on other individual and household characteristics, having fewer than three children, having greater educational attainment, and living in an urban area are strongly and positively associated with economic well-being".
Interestingly, and perhaps also surprisingly, we can see from this visualization that those with no education are now a distinct minority of the population.29 One thing this shows is that, despite improvements, the expansion of education around the world in the last decades has still not been enough to lift many households out of poverty.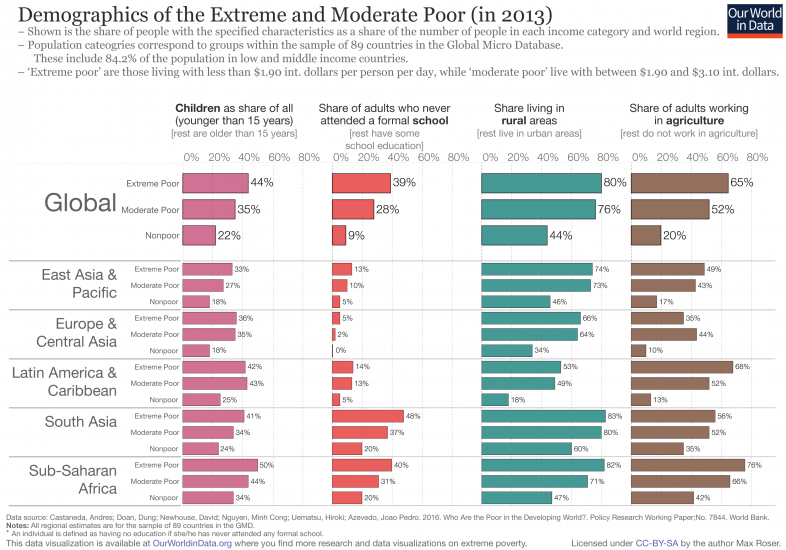 How many children live in extreme poverty around the world?
Global estimates of child poverty are unfortunately not available. However, as we mentioned above, we can have a reasonable picture of this issue by looking at the estimates recently published by the World Bank using the Global Micro Database.
For measurement purposes, children are considered to be poor if they live in a poor household (i.e. all children in poor households are assumed to be poor, while all children in non-poor households are assumed to be non-poor). A household is considered poor, in turn, if the per capita consumption of its members (or per capita income, depending on the country), falls below 1.90 int.-$. This is the standard definition of absolute extreme poverty used by the World Bank.
The following chart summarizes the available data. The height of each bar in this plot shows the share of people living in extreme poverty by age group, while the width of the bars reflects the total size of each age group in the overall population. The area of each bar (height times width) gives the number of individuals living in extreme poverty within each age bracket—these are the numbers written inside each bar.
As we can see, poverty is particularly high among children: in low and middle income countries more than 20% of children under 10 years of age live with less than 1.90 int.-$ per day. For adults, the corresponding figures are much lower: less than 10% of adults live with comparably low consumption levels.
By looking at the total number of people in extreme poverty (area of the bars) we can also see another important fact: virtually half of the people living in extreme poverty are under 18 years of age. This is a large share if we consider that those under 18 account for only around a third of the general population (as shown by the width of the bars).
Extreme poverty in low and middle income countries by age group (2013)30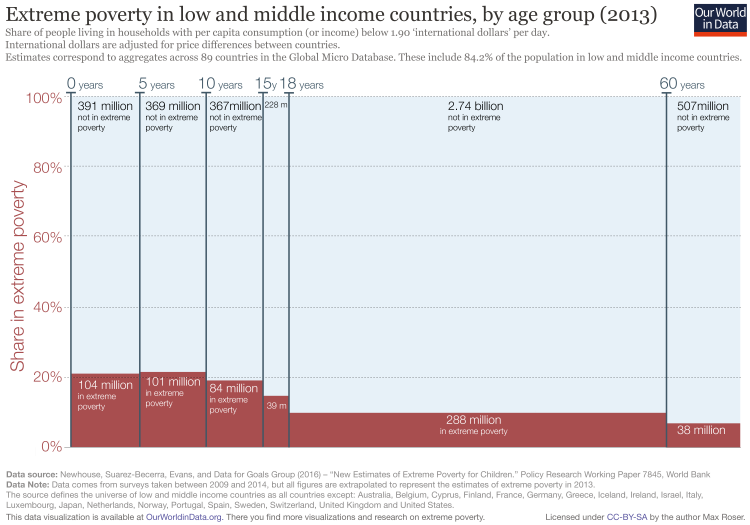 How does poverty among children compare to poverty among adults?
The above-mentioned data from the Global Micro Database allows us to study poverty across age groups for various poverty lines—not just the International Poverty Line.
The following chart shows the cumulative distribution of welfare for different age groups. Each of the lines in this plot shows, for each age group, the share of the population living below a given level of per capita daily income or consumption (after accounting for differences in prices across countries).
If you locate the vertical line passing through $1.9 in the horizontal axis, you will see that it cuts the series for adults at around 9%. This means that around 9% of the adult population lives with consumption (or income) levels below the 1.90 int.-$ poverty line. Following this logic, we can read the poverty rates at any poverty line.
As we can see, the distribution of consumption for adults is always to the right of the distribution for children. In economics lingo, what we observe is that the distribution for adults stochastically dominates that of children. This means that poverty rates for children are higher at any poverty line.
It's important to mention that these results do not reflect the fact that adults tend to generate more income than children. Bear in mind that these are estimates of household per capita income. That means that children living in households with rich adults are also assumed to be rich.
Percent of people living below different levels of consumption or income in low and middle income countries, by age group (2013) – UNICEF (2016)31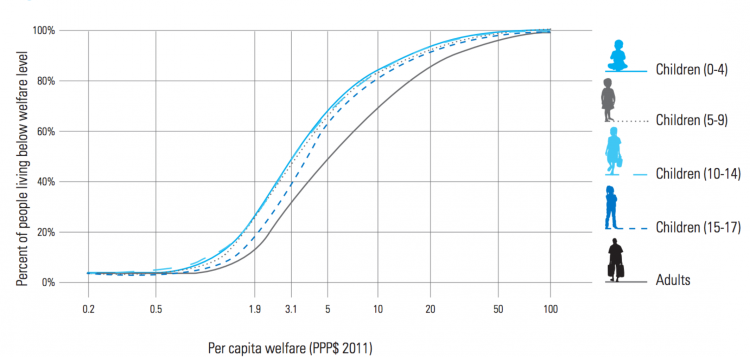 How can we measure poverty beyond income and consumption?
The methodology used by the World Bank to measure poverty relies on income and consumption. While informative, this methodology certainly leaves out many important aspects of welfare.
At Our World in Data, we believe that it is important to track progress in dimensions of well-being spanning beyond standard economic indicators. This is why we make an effort to study a wide range of aspects, including education, health, human rights, etc. If you are interested in understanding poverty through these other lenses, you are welcome to explore our website—the content menu at the top of the page links to all of our entries on these topics.
Tracking various indicators of well-being independently can make comparisons difficult, since different indicators move in different directions across time and space. Because of this, researchers and policymakers often construct synthetic indicators that aggregate various dimensions of deprivation, by attaching welfare weights to a set of key underlying metrics of well-being.
The Multidimensional Poverty Index (MPI) published by the Oxford Poverty & Human Development Initiative (OPHI), is one such effort to aggregate various aspects of well-being into a single metric. Different from other indexes like the Human Development Index, the MPI is not aggregated at the country level, but instead at the individual level—it measures how one and the same individual is deprived in different dimensions.
OPHI's MPI is widely used around the world, and currently covers over 100 low and middle income countries. The MPI is constructed from ten indicators across three core dimensions: health, education and living standards. This table specifies how the different indicators are defined and aggregated.
The MPI is constructed using three main datasets: the Demographic and Health Survey (DHS), the Multiple Indicators Cluster Survey (MICS), and the World Health Survey (WHS).
You can find further definitions and explanations in the MPI's documentation. And you can find a more technical discussion of the MPI and its properties in Alkire and Foster (2011).32
The MPI is typically used to assess deprivation at the individual level: if someone is deprived in a third or more of the ten (weighted) indicators, the index identifies them as 'MPI poor'. In the following map, we show the share of MPI poor people country by country (i.e. the multidimensional poverty headcount ratios). As we can see, this alternative metric shows that poverty is also particularly acute in sub-Saharan Africa.
As we mentioned above, poverty is multidimensional in nature, and it is therefore useful to try to measure poverty through alternative instruments that capture deprivation beyond income and consumption. The Multidimensional Poverty Index (MPI)—shown in the world map above and published by the Oxford Poverty & Human Development Initiative (OPHI)—is the most common international instrument used in this context.
The following chart plots the share of people living in extreme poverty as measured by consumption and income, against the share of people living in 'multidimensional poverty' according to the MPI. The former is the same metric we have discussed extensively throughout this entry. The latter is a metric based on unmet needs: the MPI's definition stipulates that someone lives in 'multidimensional poverty' if they are deprived in a third or more of the ten weighted indicators (such as, for example, nutrition, electricity, or schooling) that compose the index.
As we can see, there is a positive correlation between these two measures of deprivation, but they are clearly not identical. Kenya and Chad have similar monetary poverty rates (about 35% of the population live below the International Poverty Line in 2015), but they have extremely different multidimensional poverty rates (around 40% in Kenya in 2014, compared to 87% in Chad in 2015 were living in 'multidimensional poverty'). This highlights the usefulness of tracking deprivation across multiple dimensions of well-being, including both standard and non-standard economic indicators.
The link between economic growth and poverty
Poverty traps
Evidence on specific strategies to reduce poverty
Cross-country correlates
What are the main indicators used to measure poverty?
The difference between 'absolute' and 'relative' poverty
How do researchers reconstruct historical poverty estimates?
How does the World Bank estimate extreme poverty?
What are the main limitations of World Bank poverty estimates?
How problematic are data limitations?
What alternatives are there to estimate monetary poverty?
What is the cost of ending extreme poverty?
Data: Several measures of absolute poverty.
Geographical coverage: Global – by country and world region.
Time span: Since 1980
Available at: World Bank's PovcalNet – an interactive tool which visualizes absolute poverty and makes the data available for download.
Data on the sub-national level (with huge coverage!) is available from the World Bank. These are data on the poverty headcount – at national poverty line, urban poverty line, and the rural poverty line.