This is a 'meta-entry' on education. The visualizations and research discussed here are also discussed in other, more specific data entries. These include:
Education is widely accepted to be a fundamental resource, both for individuals and societies. Indeed, in most countries basic education is nowadays perceived not only as a right, but also as a duty – governments are typically expected to ensure access to basic education, while citizens are often required by law to attain education up to a certain basic level.1
In this entry we begin by providing an overview of long run changes in education outcomes and outputs across the world, focusing both on quantity and quality measures of education attainment; and then provide an analysis of available evidence on the determinants and consequences of education.
From a historical perspective, the world went through a great expansion in education over the past two centuries. This can be seen across all quantity measures. Global literacy rates have been climbing over the course of the last two centuries, mainly though increasing rates of enrollment in primary education. Secondary and tertiary education have also seen drastic growth, with global average years of schooling being much higher now than a hundred years ago. Despite all these worldwide improvements, some countries have been lagging behind, mainly in sub-Saharan Africa, where there are still countries that have literacy rates below 50% among the youth.
Data on the production of education shows that schooling tends to be largely financed with public resources across the globe, although a great deal of heterogeneity is observed between countries and world regions. Since differences in national expenditure on education do not explain well cross-country differences in learning outcomes, the data suggests that generic policies that increase expenditure on standard inputs, such as the number of teachers, are unlikely to be effective to improve education outcomes.
Regarding the consequences of education, a growing body of empirical research suggests that better education yields higher individual income and contributes towards the construction of social capital and long-term economic growth.
All our charts on Global Education
Context
Education is a valuable investment, both individually and collectively. Here we analyse available evidence of the private (i.e. individual) and social (i.e. collective) returns to education.
The most common way to measure the private returns to education, is to study how attainment improves individual labor market outcomes – usually by attempting to measure the effect of education on wages. Regarding social returns, the most common approach is to measure the effect of education on pro-social behaviour (e.g. volunteering, political participation, interpersonal trust) and economic growth.
Most of the evidence presented below is 'descriptive', in the sense that it points towards correlations between education and various individuals and social outcomes, without necessarily proving causation. In each case, we provide a discussion of the robustness of the evidence.
Private returns to education
The OECD's report Education at a Glance (2015) provides descriptive evidence of the link between individual education and income. The chart shows the earnings of tertiary-educated workers, by level of tertiary education, relative to the earnings of workers with upper secondary education. As we can see, in all OECD countries for which information is available, the higher the level of education, the greater the relative earnings.
The countries in this chart are ordered in ascending order of relative earnings. As we can see, the countries with the greatest returns to tertiary education (Brazil, Chile and Colombia) are also those where tertiary education is less prevalent among the adult population. This is indicative of the demand-and-supply dynamics that contribute to determine wage differentials across different countries.
These figures are simply correlations, and cannot be interpreted causally: individuas with more education are different in many ways to individuals with less education, so we cannot attribute wage differences solely to education choices.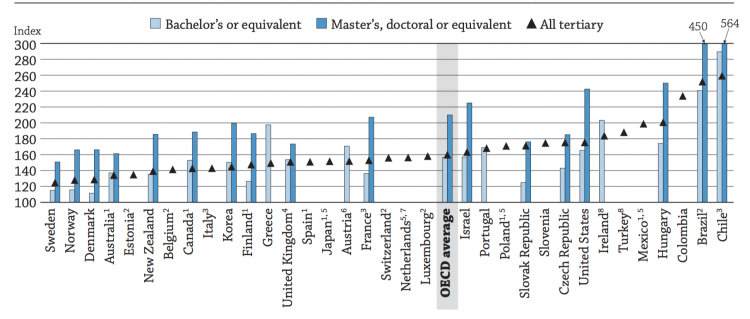 The previous graph gave a cross-country comparison of earning by education level. As pointed out, those figures were difficult to interpret causally, because they failed to account for important underlying differences in things like hours worked, experience profiles, etc.
The visualization, from Card (1999)20, attempts to pin down the relationship between education and earnings, by comparing wages across education levels, genders and age groups. The data used for this figure comes from the March Current Population Surveys in the US. Education levels correspond to individuals with 10, 12 and 16 years of education. The marks show averages for each corresponding group, and the smooth lines show the predictions made by a simple econometric model explaining wages by education and experience.
The first conclusion from this charts is that for both genders, at any given age, individuals with more education receive higher wages. Moreover, these estimates suggest that the incremental benefit from additional education grows with experience: the differences in wages between people with varying degrees of education become larger as they advance in their careers. In other words, education pay-offs are not constant over the life cycle. Other studies using different data have found similar results (see, for instance, Blundell et al. 201321)
These estimates can still not be interpreted causally, because there are yet other potential sources of bias that are unaccounted for, such as innate ability. To address this issue, the economics literature has developed different strategies. For example, by contrasting the wages of genetically identical twins with different schooling level, researchers have found a way of controlling for unobservable characteristics such as family background and innate ability. The conclusion from these 'twin studies' is that the average estimates suggested by the figure, are not very different to those that would be obtained from more sophisticated models that control for ability. In other words, there is robust evidence supporting the causal effect of education on wages (for more details see Card 1999).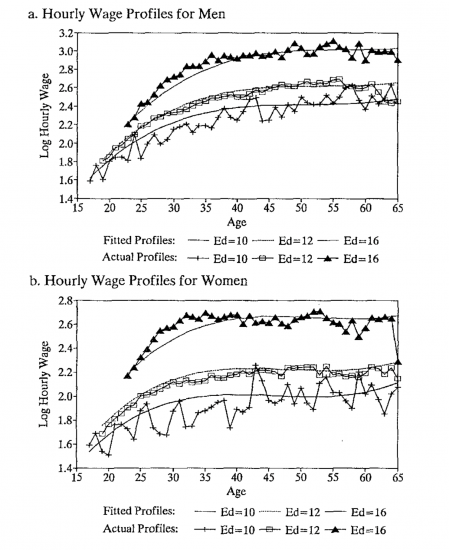 Social returns to education
The chart uses OECD results from the Survey of Adult Skills to show how self-reported trust in others correlates with educational attainment. More precisely, this chart plots the percentage-point difference in the likelihood of reporting to trust others, by education level of respondents. Those individuals with upper secondary or post-secondary non-tertiary education are taken as the reference group, so the percentage point difference is expressed in relation to this group.
As we can see, in all countries those individuals with tertiary education were by far the group most likely to report trusting others. And in almost every country, those with post-secondary non-tertiary education were more likely to trust others than those with primary or lower secondary education. The OECD's report Education at a Glance (2015) provides similar descriptive evidence for other social outcomes. The report concludes that adults with higher qualifications are more likely to report desirable social outcomes, including good or excellent health, participation in volunteer activities, interpersonal trust, and political efficacy. And these results hold after controlling for literacy, gender, age and monthly earnings.
As usual, correlation does not imply causation – but it does show an important pattern that supports the idea that education is indeed necessary to produce social capital.
A long-standing theory in political science stipulates that a country's level of education attainment is a key determinant of the emergence and sustainability of democratic political institutions, both because it promotes political participation at the individual level, and because it fosters a collective sense of civic duty.
Under this hypothesis, therefore, we should expect that education levels in a country correlate positively with measures of democratisation in subsequent years. The visualization shows that this positive correlation is indeed supported by the data. As we can see, countries where adults had a higher average education level in 1970, are also more likely to have democratic political regimes today (you can read more about measures of democracy in our entry on Democracy).
As usual, these results should be interpreted carefully, because they do not imply a causal link: it does not prove that increasing education necessarily produces democratic outcomes everywhere in the world.
However, the academic research here does suggest that there is a causal link between education and democratization – indeed, a number of empirical academic papers have found that this positive relationship remains after controlling for many other country characteristics (see, for example, Lutz, Crespo-Cuaresma, and Abbasi‐Shavazi 201024).
An important body of literature stipulates that women's education leads to lower child mortality because it contributes towards healthier habits and choices, including child spacing (see Brown and Barrett 1991 for a more detailed conceptualization of the mechanisms).25
The visualization shows the strong cross-country correlation between child mortality and educational attainment.
The economics literature has long studied whether the level of education in a country is a determinant of economic growth. This question is motivated by the notion that aggregate education ('human capital') generates positive spill-over effects for everyone. A classic example of a mechanism though which education may yield such positive economic externalities, is that aggregate education improves a country's ability to innovate, as well as imitate and adapt new technologies, hence enabling 'technological progress' and sustained growth (see Lindahl and Krueger (2001) for an overview of further macroeconomic theories of education and growth).26
While early studies found that schooling levels were poor predictors of economic growth, more recent studies – that crucially made use of better data – confirm the expected positive link. Lutz, Creso Cuaresma, and Sanderson (2008)27 conclude that "better education does not only lead to higher individual income, but also is a necessary (although not always sufficient) precondition for long-term economic growth."
The plot, from Hanushek and Woessmann (2010),28 provides a basic representation of the association between test scores and economic growth using data over the period 1960 to 2000. This type of graph, called a 'partial regression plot', shows the relationship between test scores and growth after accounting for the initial level of GDP per capita and for years of schooling in 1960. As we can see, there is a strong positive relationship. What we learn from this result is that "test scores that are larger by 1 standard deviation (measured at the student level across all OECD countries in PISA) are associated with an average annual growth rate in GDP per capita that is two percentage points higher over the whole 40-year period."29
This coincides with other studies showing that historical increases in the number of universities across countries are positively associated with subsequent growth of GDP per capita (Valero and Van Reenen 2016).30
A number of studies have found that it is actually education in the form of cognitive skills, rather than mere school attainment, what really matters for predicting individual earnings and economic growth. You can read more about this in Delgado, Henderson and Parmeter (2014)31, Hanushek (2013)32 and Pritchett (2001).33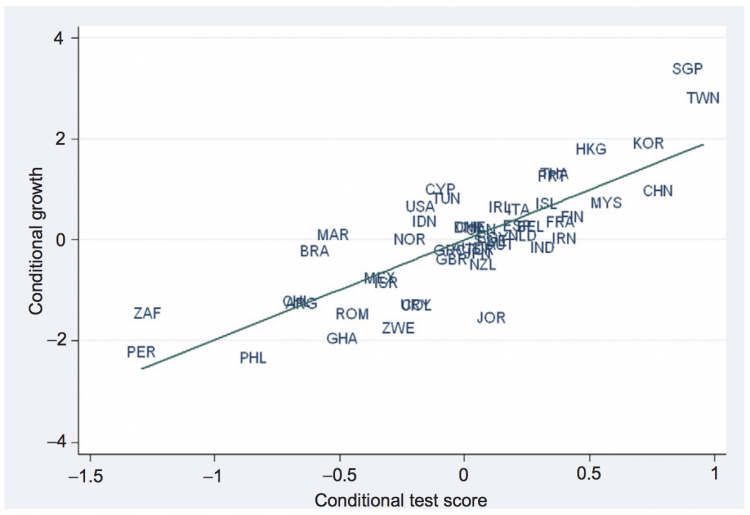 There are two important sources of long-run cross-country data on education attainment. The most recent one is Lee and Lee (2016).35 These estimates rely on a variety of historical sources, and expand existing estimates from previous studies by using a significant number of new census observations. The authors relied on information about the years of establishment of the oldest schools at different education levels in individual countries, in order to adjust their estimates; and they also used data on repetition ratios to adjust for school repeaters.
The other main source on this topic are the estimates from the International Institute for Applied Systems Analysis (IIASA) and the Vienna Institute of Demography (VID). These institutions reconstructed educational attainment distributions by age and sex for 120 countries for the years 1970–2000. These estimates correspond to 'back projections': researchers used educational attainment estimates from the UN for the year 2000, and projected backwards from this single year. You can read more about this source of data and the underlying methodology in our entry on Education Projections.
You find more research, data visualisations, and detailed lists of data sources in the more specific entries: