Summary
Since the invention of the smallpox vaccine, vaccines have greatly reduced the prevalence of diseases everywhere in the world. This research article explains which vaccines are available and where they are, what their impact on global health is, and how the world can make more progress against early death and disease with the help of vaccines.
All our charts on Vaccination
This chart shows the global vaccination coverage of one-year-olds with some of the most important vaccines recommended by the WHO. For many essential vaccines coverage is now much higher than 80%. However, the rates of vaccination are still not sufficient.
If you click the play button you see that the coverage for most vaccines has increased substantially over time.
The vaccine against diphtheria, tetanus and pertussis, is often used as the key metric for global vaccination coverage because it is a good indicator for access to routine immunization services. In 2018, coverage of the third dose of DTP was 86%. This means that out of 135 million under-one-year-olds more than 19 million did not receive full immunization. The coverage of the first dose of DTP was 90% indicating that 13.5 million children were not vaccinated in 2018.
In 2018, only 35% of children globally received the rotavirus vaccine, which protects children from diarrheal diseases — one of the leading causes of child mortality. Similarly, pneumococcal vaccine that protects children from pneumonia — the leading cause of child mortality — only reached 47% of one-year-olds.1
Related chart – the number of children vaccinated. This chart shows how many one-year-olds were vaccinated globally.
Why do not all children in the world receive vaccinations?
This chart shows that it is in poor countries where vaccination coverage is low. The vaccine coverage against diphtheria, pertussis (whooping cough), and tetanus is a good marker of the strength of a country's immunization programs since several administrations are required. All rich countries have vaccination coverage rates of more than 90%. It is in low- and middle-income countries where coverage is low – in some countries below 50%.
But the chart also shows that some poor countries – like Burundi, Rwanda, and Bangladesh – achieve high coverage rates. Similarly, countries in which a large share of the population is living in extreme poverty often – but not always – have lower immunization rates, as this chart shows.
We know that vaccines save lives. But how many lives vaccines have they saved?
The World Health Organisation (WHO) suggests that vaccination prevents 2-3 million deaths each year.2 However, while we are certain that vaccines have saved millions of lives, calculating a precise number is impossible. Also the quoted number from the WHO is in important ways a very low estimate.
The counterfactual world, in which vaccines would have never been developed, would be so different that an estimate of the impact of vaccines is impossible. One example that makes this clear is to consider the impact of the smallpox vaccine: Smallpox was once an extremely common and deadly infectious disease, but it has been eradicated globally back in 1977 thanks to the vaccination against the disease. It is impossible to know exactly how many people would die of smallpox today if scientists had not developed the vaccine. Reasonable estimates are in the range of around 5 million lives per year, which implies that between 1980 and 2018 around 150 to 200 million lives have been saved.3 This makes clear why it is so difficult to estimate the number of lives saved every year and why the WHO estimate is rather low.
How vaccines work & herd immunity
The basic mechanism by which vaccines work is simple: Vaccines create immunity in an individual by introducing a weakened or killed form of the pathogen that make us ill – such as bacteria or viruses – or its toxins or one of its surface proteins. The vaccine induces acquired immunity so that when your body encounters the real disease-causing agent it is ready to mount a defense.
There is a collective social benefit in a high vaccination coverage. For most diseases, the greater the proportion of people who are immunized, the better protected is everyone in the population as the disease transmission can be reduced or stopped. Herd immunity is a community protection that is created when a high percentage of the population is vaccinated, such that it less likely that the infectious disease spreads.4
Herd immunity provides a protective barrier, especially also for those who cannot be vaccinated. These include vulnerable groups such as babies too young to be vaccinated or immune-compromised children who are the first potential victims of low vaccination rates.
When a person is immune to a disease they can act as a barrier to slow down or prevent the transmission of disease to other people. When the number of people in a population that are immune against a disease is reached, such that a disease no longer persists in the population, this is called the herd immunity threshold (HIT). The table shows the HIT for several diseases. Measles and pertussis are highly contagious airborne diseases and a larger share of people need to be vaccinated to stop the transmission. Because of this these diseases have the highest HIT rates that need to be reached. For example, two doses of measles vaccination offers 99% protection, while in the absence of immunization, the lifetime risk of infection is nearly 100%.5
Herd Immunity Thresholds of vaccine-preventable diseases6
| Disease | Transmission | Basic reproduction number | Herd Immunity Threshold |
| --- | --- | --- | --- |
| Measles | Airborne | 12–18 | 92–95% |
| Pertussis | Airborne droplet | 12–17 | 92–94% |
| Diphtheria | Saliva | 6–7 | 83–86% |
| Rubella | Airborne droplet | 6–7 | 83–86% |
| Smallpox | Airborne droplet | 5–7 | 80–86% |
| Polio | Fecal-oral route | 5–7 | 80–86% |
| Mumps | Airborne droplet | 4–7 | 75–86% |
| SARS | Airborne droplet | 2–5 | 50–80% |
| Ebola | Bodily fluids | 1.5–2.5 | 33–60% |
| Influenza | Airborne droplet | 1.5–1.8 | 33–44% |
Smallpox and the origin of vaccination
Vaccine innovation
Progress against vaccine-preventable diseases in the US
Global decline in vaccine-preventable diseases
Eradication of diseases through vaccination
People do not know how well we actually do in global vaccination
Today vaccines protect millions of people around the world from infectious diseases. In this fight we are much, much further ahead than most people realize.
The first chart shows the evidence for this misperception. In this chart we plotted the survey responses that people gave when they were asked "How many of the world's 1-year old children today have been vaccinated against some disease?". The correct answer was 85.8%; this is the share of 1-year olds that received the third dose of the combination vaccine that protects against Diphtheria, Tetanus, and Pertussis (whooping cough).
But in all countries in which people were surveyed people were much too pessimistic about the global coverage. Americans think that only 35% of the world's children are vaccinated, the true coverage is 50 percentage points higher.22
In Japan people were even more pessimistic and thought that only 18% were vaccinated. As it is often the case in questions on global development we again see that people in poorer countries have a more accurate view of the world: in Kenya and Senegal people thought that vaccines reach around two thirds of all children in the world, but even these highest estimates are 20 percentage points too low.
We hugely underestimate global vaccination coverage23
The chart here illustrates how outdated people's answers are. Most individuals think that the global vaccination coverage today is as low as it was in the 1980s or even earlier.24
The World Health Organization recommends routine vaccinations to prevent illness, death and disability from diseases including diphtheria, pertussis (whooping cough), tetanus, polio, measles, and hepatitis B.25
We have created a chart that shows the absolute number of one-year-olds who have received the vaccinations.
Where the biggest gap in vaccination lies is with all children being fully vaccinated and protected as much as possible from infectious diseases. Gavi, the Vaccine Alliance, has analysis that suggests only 7% of infants in the 73 poorest countries are fully immunized (that is, receiving all doses of all recommended vaccines).
How many people support vaccination across the world?
The London-based research charity The Wellcome Trust published their Wellcome Global Monitor in 2019 on attitudes to science and major health challenges. It is the world's largest study of its kind, surveying over 140,000 people from over 140 countries. As part of the Gallup World Poll, the 30-question survey ran during 2018.26
The Wellcome Trust survey asked three core questions related to attitudes to vaccines: do people think that vaccines are important for children to have; do they think vaccines are safe; and do they believe vaccines are effective.
More than 9-in-10 people in the world (92%) think that vaccines are important for children to have.
How support varies across the world is shown in the map. We see high support for vaccination across almost all countries. In most countries over 80% of respondents think child vaccination is important, in many countries it is over 90% who think so.
There is a visible North-South divide in attitudes: support is highest across South Asia at 98%; 97% in South America; 94% in Northern Africa; and 92% in Southern Africa. Support is still high, but lower across North America (87%); Western Europe (83%) and Eastern Europe (80%).
Of those surveyed in Venezuela, Palestine, Ethiopia and Northern Cyprus thought vaccines were most important: 100% were in favour.27
Some parents may not agree for children to be vaccinated if they think vaccines are unsafe or could potentially cause side-effects which are worse than the benefits. How prevalent are these safety concerns?
Globally, a small share of people disagree that vaccines are safe. Only 7% of respondents across the world said they "strongly disagree" or "somewhat disagree" with the statement 'Vaccines are safe'.
In many countries these concerns are very low: in Bangladesh, for example, less than 1% disagree that vaccines are safe. In neighbouring India, only 2% disagree. We see this distribution across the world in the map.
Trust in vaccines is not high everywhere. There are some clear outliers. The French were most skeptical: 1-in-3 disagreed that vaccines were safe. Many in neighbouring Switzerland and Belgium were also very skeptical: more than 20% disagreed. Other countries with high mistrust of vaccine safety were Gabon (26%); Togo (25%); Russia (24%); Austria (21%), and Iceland (21%).
In response to the statement 'Vaccines are effective', only 5% of respondents across all surveyed countries said they "strongly disagree" or "somewhat disagree". The vast majority of people do not think of vaccines as ineffective.
But, as with the other surveyed questions, this varies significantly across countries. We see this in the map. In some countries, very few respondents disagreed: less than 1% in Bangladesh and Egypt; 2% in India and Ethiopia; and 3% in China, Germany and the UK.
Liberia is most skeptical with 28% disagreeing that vaccines are effective. But skepticism was also high in France (18%); Namibia (16%); Nigeria (16%); and Peru (15%).
The finding of the Wellcome Trust of mostly very positive attitudes towards vaccines – a health intervention that saves millions of lives and eradicated one of the worst diseases humanity ever faced – is a very positive finding.
But there is a concerning finding which is hidden when we look only at agreement and disagreement to the questions in the Global Monitor.
Take Japan as one example. Only 66% of Japanese respondents thought vaccines were important for children to have – very low in comparison to other countries. But few disagreed that vaccines were safe (only 8%) and disagreed that they're effective (only 3%). If few people thought they were unsafe and ineffective, why would support for vaccines be so low?
Many Japanese respondents did not answer either way. 28% answered "neither agree nor disagree" to whether child vaccination is important; 55% to the question regarding the safety of vaccines; and one-third were undecided on their effectiveness. It's difficult here, without further questions, to fully interpret the opinions of those in this undecided category: maybe they had no opinion; or they thought vaccines could be safe or effective in some cases, but not all; or some vaccines were safe but others were not. With this data, it's impossible to fully understand their reasoning.
This stance was common across several other countries, as we see in the map.
While being undecided or divided is perhaps less concerning than denialism on the importance, safety and effectiveness of vaccination, it nonetheless suggests that many are unaware of the massive role vaccines have played in eradicating diseases, and saving lives across the world. The success story of vaccines is one we don't tell often enough.
It's also true that people in the 'neither' group may be more likely to be convinced by arguments that are put forward by those who deny the safety, effectiveness and importance of vaccination. In a related post we take a look at why denialism around vaccination exists, and what is effective in addressing it.
Does vaccine skepticism affect immunization coverage?
The crucial question to ask when considering the importance of vaccine skepticism is: does it actually have an effect on behaviour? Does it really affect the share of children who are vaccinated?
In the chart we see the comparison of vaccination rates – here as the share of children who were immunized against diphtheria, pertussis and tetanus (DTP) in 2015, the latest year available – to the share of respondents in a given country who disagreed that vaccines are safe.
You can also see this relationship for measles vaccine coverage.
Overall we see that widespread public concern for vaccine safety does not appear to be strongly correlated with vaccination rates. While one-third of the French public disagrees with their safety, 97% of children in France are vaccinated.
There are numerous other reasons, however, why vaccination rates in some countries are low: in low-to-middle income countries the availability, affordability and access to vaccines can be poor. Having low coverage rates often doesn't reflect the population's view of them. As the chart shows, in many poor countries the situation is the opposite as in France: the vast majority of the population considers vaccine safe, but only about every second child receives the DTP vaccine.
One country which stands out is Ukraine: there we see that vaccination rates are uncharacteristically low for its income level – less than 1-in-4 children receive the DTP vaccine. Skepticism of vaccine safety in Ukraine is high at 15%.
Is there evidence that skepticism is reflected in cases and deaths from vaccine-preventable diseases? Over the last few years there has been a reported rise in the number of measles cases in countries which had previously been close to eliminating the disease. In Europe, for example, there were more than 34,000 cases of measles in the first two months of 2019 alone. Ukraine accounted for the majority (more than 70%) of these cases. And here as well as in Albania and Romania some measles cases led to the death of children.
The visualization shows the relationship between the share of people who trust doctors and nurses in their country and share who disagree that vaccines are safe. Overall we see that countries with higher levels of distrust in the safety of vaccines tend to also have less trust in health professionals.
There are however some outliers: France has relatively high trust in health staff, but are most mistrusting of vaccine safety.
Health officials are worried that skepticism of vaccination will begin to translate to lower vaccination rates. One reason being attributed to higher skepticism is the spread of misinformation on social media.
Social media firms do have a responsibility for dealing with misinformation and need to consider how to react carefully. Currently, social and online media companies are being asked by politicians in the US and UK to ban or control anti-vaccination messaging. Banning or strict control could reduce the exposure to such messages but does not solve the root problem: the public are asking questions about vaccines and are looking to find answers online. A worry is that banning certain sorts of information and groups will fuel suspicion and only drive activity elsewhere.
Nonetheless, demands on social media firms to act is increasing. A request for action by Adam Schiff to the CEOs of Google and Facebook sparked a cascade of responses. In an open letter, he asked for action against vaccine misinformation and similar demands have been made since, from the UK Health Secretary Matt Hancock among others.
What determines if vaccinations are compulsory?
Countries vary in whether vaccination is compulsory, mandatory (required according to specific mandates), or voluntary. Navin and Largent (2017) provide a helpful distinction between these policies. A compulsory policy is when refusing vaccination is illegal, while mandatory vaccination when certain goods and services are limited for not vaccinating.28
Which policy is followed has depended much on historical legacy, which becomes clear when one considers some of the different regulations and their history around the world:
Compulsory vaccination: Many Eastern Bloc countries introduced compulsory vaccination during the communist era. Vaccination was previously compulsory in Romania for example and after a drop in vaccination rates the country is going through the process of reintroducing compulsory vaccination. The same is true for Italy and also France, which had compulsory vaccination for three diseases but increased this number to 11 in January 2018 in response to a drop in vaccination rates.
Mandatory vaccination: Some countries, such as the United States, have mandates for vaccination where a child is required to be vaccinated to enter state school or daycare. An early case in the US paved the way for state jurisdiction to protect public health in light of personal liberty.29 In Jacobson v. Massachusetts (1905) the Supreme Court ruled that states have the authority to require vaccination against smallpox during a smallpox epidemic. Since then the US has had a history of school vaccination requirements. The increased number of children in public schools as a result of the compulsory school attendance law led to an increased risk of smallpox outbreaks, through close contact in large crowded classrooms.30 Similarly in Australia two policies penalize parents for not vaccinating their children. The 'No jab no play' policy removed unvaccinated children from state-sponsored childcare. The 2016 'No jab no pay' policy removes state welfare by not providing the universal 'Family Allowance' welfare payments for parents who are conscientious objectors of vaccination.
Voluntary vaccination: Some countries where vaccination is voluntary had early pushback against vaccination, as in the UK and the Netherlands. In 1853 a law was passed in England and Wales requiring universal vaccination against smallpox, but opposition from anti-vaccinationists led to laws being passed to allow for conscientious objection.31
Vaccination requirements for country entry: For countries in Africa and South America where yellow fever is endemic or where the mosquito vector is present a certificate of proof of vaccination is required. Only then will the country issue a visa upon entry to that country to prevent importation of this disease (particularly if travellers come from, or have visited other yellow fever endemic areas).32 In past centuries (17th to 19th), yellow fever was transported to North America and Europe, causing large outbreaks that disrupted economies and development, and in some cases decimated populations. Throughout the 18th and 19th century, yellow fever was among the most feared diseases in the ports of the Old and New World. Saudi Arabia is the only country that requires the additional vaccinations of meningococcal disease and polio for pilgrims visiting Mecca.
Whether compulsory vaccination results in improved vaccination rates is not a straightforward question to tackle because it is highly dependant on country context, historical circumstance, cultural and social norms, as well as the practicalities of implementing and enforcing such a law.
Certainly in Eastern Bloc countries when the vaccination law was compulsory, vaccination rates have been high but it is unclear whether to attribute this to the law or the behaviours and mechanisms of compliance under communist rule. Certain vaccinations have historically been compulsory such as smallpox, polio, and yellow fever. Here vaccination rates have also been high but it also encouraged organised opposition to vaccination and public discontent. This is a major concern for public health authorities that a relationship of trust, between governments and citizens is threatened (particularly for health where a rhetoric of self-responsibility, personalisation, and choice is encouraged).
There are countries with high vaccination rates without compulsory vaccination and governments do not want to disrupt public trust and self-responsibility by making vaccination compulsory, particularly if it is not seen as needed. It has been argued that high coverage has been achieved through "other approaches or efforts" and so acceptance of compulsory vaccination might be problematic in countries such as Sweden, Norway, Denmark, the Netherlands, and the UK.33
In recent years governments have acted in response to epidemics to make vaccinations compulsory, as we have seen for 2017-18 with compulsory vaccinations in France, Italy, Germany, and Romania.
One country where we can see the effect of variation in vaccination policy is the US. In the US states decide what vaccine exemptions are permitted for children who receive education in schools or use daycare. Public schooling unfortunately means that schools are sites of epidemics for childhood diseases, which is the reason such vaccination laws are required.
In individual states exemptions are granted for medical reasons but many states also allow for philosophical, personal belief or religious exemptions. Only three states – Mississippi, West Virginia, and California – only allow for medical exemption. Californian immunization rates have increased following a new Senate Bill SB 277 in 2015 to remove non-medical exemptions to vaccination.
The chart here shows vaccination coverage and what exemptions are allowed for each state. Fewer exemptions generally mean higher vaccine coverage. Indeed, Mississippi does often top the list as having the highest vaccination rates because only medical exemptions are allowed in the state. But starkly, Mississippi residents are also consistently the unhealthiest and poorest in the entire country. Health outcomes are very poor and many residents cannot afford healthcare (the state has the highest percentage without health insurance in 2017). So perhaps it is unsurprising that residents accept subsidized vaccinations that are required for access to childcare and state schools.
Vaccination coverage of children, by US state in 2016/1734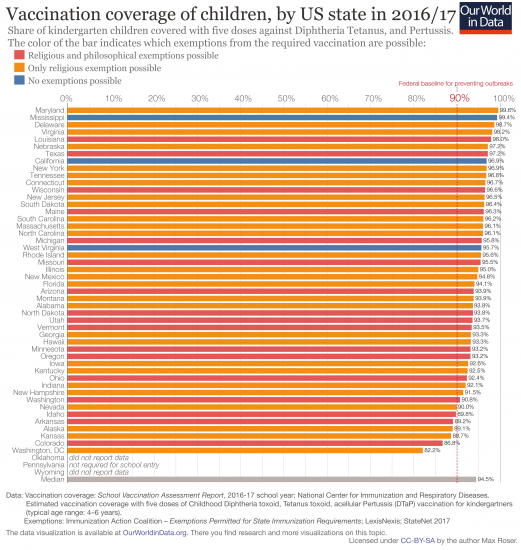 Vaccine supply
Supply constraints have caused problems for country access to vaccination. One-third of 194 countries have run out of a vaccine for a month or longer – according to data submitted to WHO and UNICEF – and this includes both high- and low-income countries. In the US, the Centers for Disease Control and Prevention (CDC) stated that reasons for shortages were multi-factoral and included "…companies leaving the vaccine market, manufacturing or production problems, and insufficient stockpiles". In 2018, it was reported that shortages where supplies of vaccines were critically low included those that target yellow fever, hepatitis B, cholera, meningitis C, diphtheria, whooping cough, tetanus, hepatitis A, and tuberculosis.
Concerns about the supply of vaccines in an epidemic or pandemic have been raised. For example, the supply of yellow fever vaccine was limited for the outbreak in Angola in 2016 leading to the recommendation of a fractional dose to extend existing supplies.35
Laurie Garrett argues that because the drug had become so cheap (60 cents for each vaccine 2008) few companies had an incentive to produce it and world stocks of the vaccine were nearing zero, forcing the WHO to dilute donated vaccines from countries like Brazil (which sent 18 million doses) by 5 to 1 with the hope they would still be sufficiently effective. Romania experienced a situation of parallel vaccine exports in 2016 where more vaccines were exported than was supplied to meet the country's needs. A shortage of the measles, mumps, and rubella (MMR) vaccine was partly responsible for the measles outbreak in 2016-17.36
In Venezuela, a country experiencing an economic crisis, there are severe shortages of medicines, including vaccines, which has led to an estimated one million unvaccinated children and the re-emergence of diseases such as diphtheria and measles.
The cost of vaccines
There are five big pharmaceutical companies37 that account for 80% of vaccine production: Sanofi Pasteur, GlaxoSmithKline, Merck, Pfizer, and Novartis.38
Many vaccines are only provided by one or two suppliers. For newer vaccines there are often particularly few suppliers due to the high investment needed to develop a vaccine.39 As one would expect from competition, the WHO reports that when vaccines are produced by a greater number of suppliers it leads to a decline of the prices of those vaccines.40
In the past vaccines were often viewed as less profitable products for pharmaceutical companies, which led to a lack of investment and some companies pulling out of production altogether.41
But this has changed as the revenue of the global vaccines market has increased and richer country governments and insurance companies have been willing to pay more for new vaccines.
In addition, growing economies such as India and China are investing more in vaccines as well as developing their domestic manufacturing capacity. Poorer countries now have Gavi to help governments pool resources and make advance purchase commitments.42
Gavi is an international organisation created in 2000 to bring together public and private sectors, with the goal of equal access to new and underused vaccines for children in poorer countries. It subsidizes vaccines that otherwise would not be affordable for low-income countries. In addition to subsidizing vaccines themselves, Gavi offers vaccine introduction grants, which help to cover the costs of introduction of new vaccines into routine immunization schedules. The map here shows which countries are eligible for GAVI support.
Some vaccines still remain expensive. For example, the pertussis vaccine is available in two versions: whole cell (wP) containing the whole pertussis bacterium or acellular (aP) which contains a part of the pertussis bacterium. The pertussis vaccine is often combined with diphtheria and tetanus to produce either a DTwP or DTaP vaccine.43
DTaP is slightly more expensive; it is sometimes called 'the painless vaccine' because it causes less of a local reaction and pain but should not be given to children over the age of seven. However, DTwP has been shown to be more efficacious at preventing the transmission and spread of disease to unvaccinated people and to those with weak immunity.
New vaccines tend to be more expensive as they are under patent protection. For example when the HepB vaccine was developed many lower income countries could not afford to pay $30 per dose.44
Today there is often a differentiation between the prices paid by countries as shown in the small table.
Price differences for vaccines between the US and developing countries45
| | | |
| --- | --- | --- |
| Vaccine | Cost per dose in a developing country | Cost per dose in the US |
| HepB | $0.58 – 13.20 | $50 – 100 |
| BCG | $0.16 – 1.11 | $100 – 200 |
| Yellow fever | $4.30 – 21.30 | $50 – 100 |
Why do vaccine schedules differ?
Chickenpox (varicella) is an example of a vaccine that some countries adopt into their routine childhood vaccination schedules, while others do not. The question that follows is why there is a difference in opinion for introducing widespread uptake of a vaccine or not. Japan was one of the first countries to adopt universal chickenpox vaccination.46
Australia, Canada, Germany, Qatar, Republic of Korea, Saudi Arabia, Taiwan, Uruguay, U.S., Italy (Sicily only) and Spain (Madrid only) followed afterwards and adopted universal chickenpox vaccination. When extreme cases of chickenpox have occurred there have been calls for the vaccine to become available for free through the National Health Service in the UK. However, most European countries do not vaccinate against chickenpox, except for 'at risk' groups. The main reason for not adopting universal vaccination is the high cost. Additional supporting justifications are that it is usually a mild disease and the benefit of fewer cases of shingles – as explained here.
The Centers for Disease Control and Prevention in the US ran the Varicella Active Surveillance Project (VASP) from 1995 through to 2010 to monitor the impact of the varicella vaccination program and the key finding is shown in the chart. The coverage of the vaccine in Los Angeles County rose from 37.9% in 1997 to 95.1% in 2010, and in Philadelphia from 41.2% in 1997 to 94.6% in 2010 (one-dose vaccinations for children between 19 and 35 months of age). By 2010, varicella incidence declined by 98% in Antelope Valley (California) and West Philadelphia (Pennsylvania) compared with 1995. Outbreaks and hospitalizations also decreased rapidly. From 1995 to 1998, hospitalization rates ranged from 2.2 to 3.3 per 100,000 population but by 2006-2010 this had declined to 0.2 per 100,000 in Antelope Valley and 0.5 per 100,000 in Philadelphia.
Chickenpox is an example that can also help to answer the question of whether better hygiene or vaccination are in fact responsible for the reduced rates of disease. Although both are important, a more recently adopted vaccination such as chickenpox can demonstrate the effects of vaccination in reducing the rate of disease after the importance of hygiene was discovered and became a preventative measure against disease. As hygiene standards already reached high levels, the additional benefit of the vaccine is confirmed. The impact on disease rates demonstrate it is not hygiene but vaccination that reduced the incidence of chickenpox so dramatically in the US.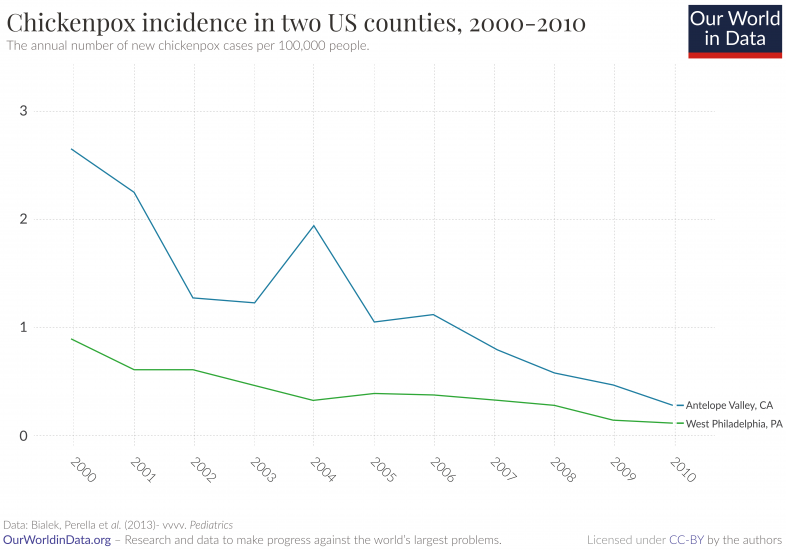 Which countries have mandatory childhood vaccination policies?
With the widespread rollout of COVID-19 vaccines globally, some countries have started to consider mandatory vaccination, although no country has yet to make vaccines mandatory for its population.47 While COVID-19 has resurfaced the debate on vaccination policies, it has been an important topic for many other diseases. The World Health Organization (WHO) estimates that vaccines save two to three million lives each year (excluding COVID). The development of vaccines against vaccine-preventable childhood diseases has been a key driver in the decline of child mortality.
Despite it being such an important topic, it is surprising that information about which countries have mandatory vaccine policy is lacking, and it is childhood vaccines under a country's national immunization schedules that are most commonly made mandatory.
In this article we present a new global dataset which looks at childhood vaccination policies across the world.
How do childhood vaccination policies vary across the world?
We recently charted mandatory childhood vaccine policies worldwide as they are becoming an increasingly important policy intervention for governments trying to address low vaccination rates.48
The term 'mandatory' and 'mandates' are taken to mean quite different things across countries. Whilst the term is commonly used it is poorly defined.49 Mandates require vaccination for a certain purpose, most commonly related to school entry for children. While definitional disagreements still persist, it remains important to better understand what policies are in place across countries and the reasons driving changes in policy over time.
Our list indicates whether a country has a mandatory vaccination policy for one or more vaccine and the strictness of the mandate on a scale ranging across three levels: mandatory, mandatory for school entry, or recommended. The childhood vaccines include the vaccines that protect from measles, mumps, rubella, diphtheria, tetanus, pertussis, polio, rabies, hepatitis B, rotavirus, haemophilus influenzae type B, and tuberculosis – some of which are administered as combined vaccines. We have classified a country as having a mandatory policy if they mandate for at least one vaccine.  
The differences in vaccination policy across the world are shown in the map. By covering 149 countries we could identify some trends around where and why vaccines are mandatory today.
Note: this is a live dataset that relies on crowdsourcing to note policy changes. If you are aware of any new policies or policy changes for any country please do get in touch at: samantha.vanderslott@paediatrics.ox.ac.uk.
How do mandatory vaccination policies vary by region?
We found that assessing policies across WHO regions – European, Americas, Western Pacific, African, and Eastern Mediterranean – was a useful way to break down our analysis of policies worldwide.
In the chart you see a breakdown of the number of countries with a given policy mandate. You can view this by region by using the "Change region" toggle on the interactive chart.
Europe has a mixture of mandatory and recommended policies. But most European countries ­– 16 out of 28 – do not have mandatory vaccination. European countries were among the first to introduce mandatory vaccination for smallpox in the early 19th century, which also led to early push-back. The early introduction and early push-back, along with present-day approaches to foster mutual trust and responsibility between citizens and the health authorities, may be part of the reason why vaccination is often recommended rather than mandated in many European countries.50 Countries of the former-USSR (Union of Soviet Socialist Republics) or under the influence of the Eastern Bloc previously had mandatory vaccination, and many kept this policy in the post-USSR era.
Most countries in the Americas – 29 out of 35 – have mandatory vaccinations. In the USA, vaccination is regulated by individual states though it is mandatory for school entry in all of them. In Canada, only three provinces have legislated mandatory vaccination policies that apply to children enrolling in school.
In the Western Pacific region, changes to mandatory policies have gone in both directions. Some countries such as Singapore have moved towards mandatory vaccinations whilst others, such as South Korea transitioned away from mandatory to recommended vaccines in 1999. For other countries, mandatory policies are more ambiguous. In China, there is no evidence of specific legislation mandating vaccines, despite many references to such claims in the literature.51
It was difficult to obtain information about vaccination policies across African countries, suggesting the absence of specific policies in the region. However, the policies we did find were for mandatory vaccination.
Most countries in the Eastern Mediterranean region have mandatory vaccines. Israel is an exception in only recommending vaccination, based on a vaccination schedule outlined by the National Immunization Technical Advisory Group.
There are a number of countries in South-East Asia with mandatory vaccination. India is similar to other large countries, with varying policies on mandatory vaccination at the state level. Finally, we note that there are some countries that have mandatory policies at a sub-country level such as in Canadian provinces and Indian and Australian states but we have classified these countries as to the national policy and the policies cover most of the country.
What drives the introduction of mandatory vaccinations?
Overall, we found that the occurrence of recent outbreaks is a major factor in the introduction of mandatory vaccination, particularly for high and upper-middle-income countries in Europe. Germany, for example, made measles vaccination mandatory for school and day-care attendance in 2020 following large outbreaks.52 Similarly, Serbia tightened mandatory vaccination laws following a measles outbreak in 2014 to 2015 by introducing harsher penalties.53 Trends of reported cases of measles can be explored in detail here.
Secondly, many low- and lower-middle-income countries have resorted to mandatory vaccination policies because of a lack of other policy options. Nonetheless, many have still missed their target vaccination rates due to problems with vaccine supply, delivery, and access. In Guyana for example, vaccination is mandatory, yet vaccination coverage is hindered by the management of the supply chain in keeping storage temperatures consistent and the distribution of freeze-sensitive vaccines.54 In Nigeria, vaccination is mandatory, and several states have enacted legislation criminalising vaccine refusal. Yet as Onyemelukwe (2016) argues, there are structural, logistical, political, systemic, religious and cultural obstacles to the effective distribution and uptake of vaccines, ranging from cold chain issues, to corruption and security issues.55 There is thus often variation between vaccination in policy compared to in practice.
These findings will be useful to inform policymakers considering the merits of mandatory vaccination:
1) In the past, an outbreak of a disease (such as measles) has led to introduction of mandatory vaccines even in countries where previously all vaccinations were recommended;
2) Making a vaccine mandatory should not be the only policy tool but needs to be combined with strong access and availability of vaccines;
3) It is not just a matter of whether to mandate a vaccine, but how this mandate will be enforced, whether people will comply, and the impact on state-citizen relations.  
In summary, mandatory vaccination must be considered with caution. A country's past experience with mandates, vaccination services, ability for enforcement, public attitudes, and the current state of disease outbreaks will all play a part in whether mandatory vaccination should be introduced.
Diseases preventable through vaccination
Diphtheria, Tetanus, and Pertussis vaccine
Measles vaccine
Rotavirus vaccines
Pneumococcal vaccines
Hepatitis B vaccine
Haemophilus influenzae type b vaccine
Polio vaccine
Tuberculosis vaccine (BCG)
Yellow fever vaccine
The coverage is calculated as the proportion of persons in a target age group who received a vaccine dose. Dates of vaccination are either taken from a child's home-based record, recorded based on caregiver recall, or from health facility records.
While appearing straightforward enough, several methodological problems of household survey respondent data on vaccination have been well documented.101
Questions have arisen about how accurately parents can recall child immunization history and the limitations of phone calls to collect data.
Even accurately estimating target populations in low-income settings can be difficult and discrepancies have been found when comparing country-reported figures with independent surveys.102
Furthermore, childhood vaccinations are rarely considered altogether. The DTP3 vaccination tends to be the vaccination most often used as a marker of strength in a country's immunization programs, since three administrations of the vaccination are required.103
National coverage rates are what is focused upon, but even when national coverage are high, subnational coverage can reveal inequities, which is why the WHO and UNICEF are increasing efforts to gather high quality subnational coverage data.104
In 2015 coverage estimates at the district level were only reported for 158 of the 194 WHO Member States. National data only provides part of the picture of immunization coverage. Different levels of coverage data, including at sub-national or district level is useful for gaining an understanding of where there might be clusters of under- or un-vaccinated children.
Data: Immunization coverage, system indicators and schedule, and disease incidence
Geographical coverage: WHO member nations
Time span: 1980 onwards for many countries
Available at: Online here
More information about vaccines in general can be found on the World Health Organization (WHO) page on immunization.