In this entry we are giving an overview of the mortality of infants and children. In demography, child mortality refers to the death of children under the age of five while infant mortality refers to the death of those under the age of one.
Summary
Based on this overview we are asking where the world is today – where are children dying and what are they dying from?
This is the basis for answering the question what can we do to make further progress against child mortality? We will extend this entry over the course of 2020.
All our charts on Child and Infant Mortality
Related research entries:
Causes of deaths – What are people dying from?
Fertility rate – How many children are born?
Life expectancy – What is the impact of child mortality for life expectancy? And how is mortality at later stages of life changing?
Maternal mortality – How many mothers are dying when giving birth to children?
Malaria – most malaria victims are children and it is one of the main causes of death of children
Related writing:
Global Health – See where the world stands on Goal 3 in our Sustainable Goals Tracker
Child mortality today is the lowest it has ever been. In less than three decades child mortality has more than halved — from 12.5 million in 1990 to 5.2 million in 2019. This is a huge accomplishment that should not be overlooked.
Of course, the death of every child is an enormous tragedy, and in many countries far too many children die because of causes we know how to prevent and treat. As the map here shows, today the highest child mortality rates are in Sub-Saharan Africa, where we still have countries with child mortality rates greater than 10% — this means that one out of 10 children born never reach their 5th birthday.
Child mortality is an everyday tragedy of enormous scale that rarely makes the headlines
56 million people in the world died in 2017. How old were they when their lives ended?
The answer can be seen in the bar chart. It shows all deaths in the world by age in five-year age groups, starting with the youngest on the left towards the oldest age group (95+ years) on the right.
What stands out is the death toll for the very youngest age-group. 5.4 million children died before they had their fifth birthday. On any average day, that's 15,000 young children.
The suffering and dying of children remains immense, yet these daily tragedies continue without receiving the attention this injustice deserves. A comparison of the tragedy of child deaths with those tragedies that do receive public attention puts it in perspective. A large jumbo jet can carry up to 620 passengers.1
The number of child deaths is that of 24 jumbo jet crashes, with only children on board, every single day.
Single events – such as plane crashes – always make the headlines. Daily tragedies – even the worst ones like the deaths of thousands of children – never make the headlines.
Every case of a family losing a child is a tragedy, regardless of how common or uncommon the cause. Spectacular events that grab global attention in the media are not more important than everyday human suffering. But unfortunately this is not how our minds and our media work. What we focus our attention on are either the spectacular tragedies (natural disasters, terrorist attacks, crime) or new problems (fake news, risks from automation). The first category keeps the breaking news cycle running, the second category keeps the op-ed writers employed. But in many aspects the biggest threats to our lives are the same threats that all the generations that came before us have faced. And this seems unfortunately to be true for what kills children around the world; it's neither new nor spectacular.
A newspaper that would cover the most important facts about the last 24 hours would cover the 15,000 child deaths on its cover page every day.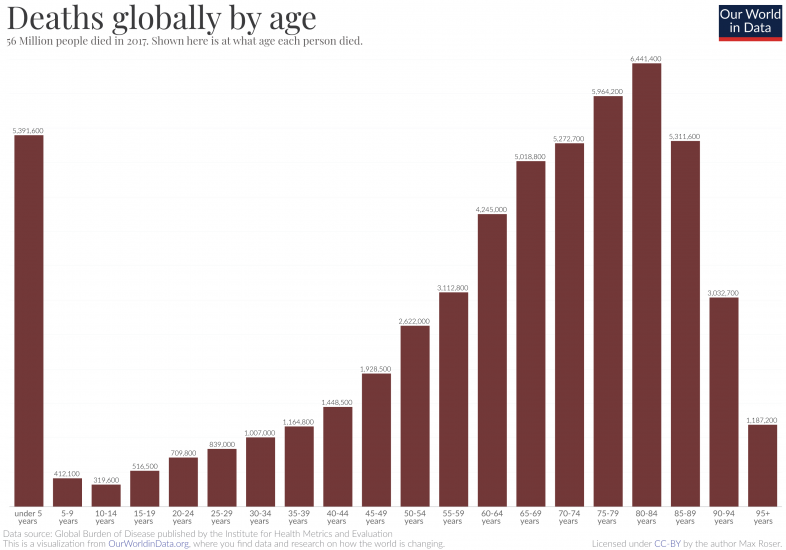 Child mortality: achieving the global goal for 2030 would be a huge achievement – but we are currently far away
Every country in the world agreed to reach the UN's Sustainable Development Goals (SDGs).2
Goal 3.2 is to reduce the child mortality rate to at least as low as 2.5% in all countries by 2030. This would mean that more than 97.5% of all newborns would survive the first five years of their life no matter where they are born.
We are currently far away from the goal for 2030. Globally 3.9% of all children die before reaching the age of five, which means that on average 15,000 children die every day.3
And the visualization shows that while the child mortality rate declined around the world there are still many countries in which the mortality rate is higher than 2.5%.
The visualization shows five scenarios for the 15-year period of the SDG era to answer this question.
Stagnation in child health would mean 100 million child deaths in the SDG era. The number of births in the world is expected to stagnate between 2015 and 2030 at around 140 million births per year. If we assume the global child mortality rate to remain at the level it was at the beginning of the SDG era (4.5%) then we would live in a world with 6.3 million child deaths every year – 100 million child deaths until 2030.4
Stagnation, however, is not what global health researchers expect. Based on past trends and levels in 2015 the UN Population Division made projections for the number of births and the mortality rate of children in all countries of the world. According to these projections the number of child deaths will be almost two million lower in 2030 than in a stagnating world: 4.5 million child deaths. This improvement of child health would still mean terrible suffering: 86 million child deaths in the SDG era.
And while these UN projections expect a further improvement of global child health this trajectory would fall short of reaching the SDG. The scenario in green shows what it would mean to reach the SDGs. In this scenario I made a projection in which all countries would reduce child mortality to at least 2.5% and meet goal 3.2.5  Reaching the SDG would mean again almost 2 million fewer child deaths when compared with the UN projections.
Some suggest that the UN goals are set in a way that makes them easy to achieve. The motivation is supposedly that the UN defined goals which are easy to reach so that the international organization looks good after achieving them. This is not true. Just how ambitious the child mortality goal is becomes clear when you see it in historical context: The scenario called 'US path' shows what would happen to the global child mortality rate if it would follow the decline of child mortality in the US when the US had a mortality rate of 4.5% (in 1946). And the 'Western Europe path' plays out what would happen if the world would follow the path Western Europe took when it was at that level.
The SDG goal is much more ambitious than what the richest regions in the world have achieved when they had the same level of child health.
We know that it is possible to change the world. Two hundred years ago the child mortality rate was extremely high around the world – more than 40% of all children died. Since then the child mortality rate has declined more than 10-fold. In 'The world is much better; The world is awful; The world can be much better' I've written about how we can think about the big gap between the current state of the world and what we know is possible and the big gap between the terrible living conditions in the past and the improvements since then. Because we need to further reduce child deaths we are studying the causes of death of children today and how it was possible to improve child health so very substantially in the past in our entry on child mortality.
We are currently far away from reaching the global goal for child mortality. Achieving it, however, is tremendously important – it would spare millions of families one of the most horrible tragedies anyone can imagine.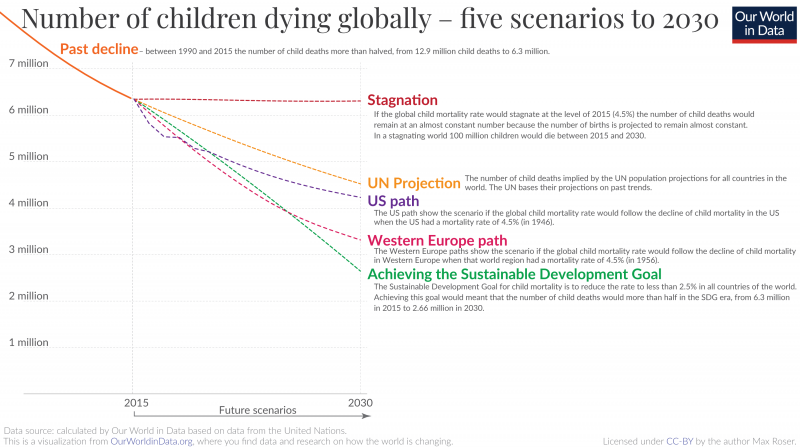 Mortality in the past – around half died as children
Child mortality around the world since 1800
Child mortality from the parents perspective
Global picture of child mortality from 1800 until today
Where in the world are children dying?
5.4 million children under five years old died in 2017. The fact that in those countries with the best health, child mortality rates are 10-times lower than the global average suggests that most of these child deaths are preventable.
To reduce the number of children dying we need to know two things: where they're dying and what they're dying from. Here we take a look at the first question: where in the world are children dying?
We mapped the global distribution of child deaths in the somewhat unusual visualization. This type of visualization is called a treemap. Each rectangle's size corresponds to the number of child deaths in a particular region.
The treemap shows the distribution of child deaths in 1990 and 2017:
The number of child deaths declined in all but 14 countries from 1990 to 2017: for these countries, the outer box represents 1990 and inner box marks 2017.
There are 14 countries where the number of child deaths increased: in this case only a single box is shown, representing deaths in 2017.23
At a time during which the number of births increased globally, the number of child deaths fell. In 1990, 12.6 million under-5s died; this more than halved to 5.4 million until 2017. Every world region also saw a decline.
Some countries have achieved a dramatic reduction:
In India, the number of child deaths fell from 3.4 million to one million;
In China it fell nine-fold from 1.4 million to less than 160,000;
In Bangladesh more than five-fold from over 500,000 to 100,000;
In Ethiopia from 439,000 to 189,000;
And in Brazil from 235,000 to 43,000.24
But, some of the countries which have seen the greatest progress are still those where most children are dying today. India has suffered the most child deaths: one million in 2017. This was followed by Nigeria (714,000); Pakistan (400,000); the Democratic Republic of Congo (300,000); Ethiopia (189,000); and China (156,000).
The total number of children dying depends on two factors: the likelihood a newborn will die in the first years of life and the number of children born. Countries where the most children die are not necessarily those where a child's chances of dying are highest. Here is the map of the mortality rate of children. India has a child mortality rate of around 4% – the same as the global average – and three times lower than some of the highest countries in the world. But it has, by far, the largest number of children under five years old.
This matters for the possibility to make progress in the future. India – for example – doesn't only have a falling child mortality rate, but has also passed 'peak child'. The number of children under five years old has already peaked and is now falling: in the coming decades, its under-5 population will decline. Fewer children and a lower likelihood of child mortality means we'd expect the total number of children dying in India to fall quickly.
Our concern will then turn towards countries where the chances of child mortality is high, and the number of births increasing. Countries where children are most likely to die – Somalia, Chad, Central African Republic, Sierra Leone, Nigeria, and Mali – will all have an increasing number of children in the coming decades. Progress on reducing child deaths will here therefore become a race between declining child mortality rates and an increasing number of children.
But the two runners in the race are not independent: one of the reasons couples have many children is because they do – or expect to – lose some of them early in life. Our progress on reducing child deaths can therefore be amplified if falling child mortality leads to falling fertility rates.
We know that most child deaths today are preventable. They result from causes we know we can tackle. How do we know this? Because we already averted many millions of child deaths in the past few decades. Between 1990 and 2017 the number of children dying each year fell by 7.2 million. By stopping those we know are preventable, we could save at least another 5 million children every year. We can reach a world with many fewer child deaths than ever before.
What are children dying from?
In the chart presented here we see the major causes of death of children under 5 in 2017 compared to 1990. This type of chart is called a treemap, where the area of each box represents the total number of child deaths for each specific cause. The total colored area represents the total number of child deaths in 1990: 11.8 million children died back then, according to the Institute for Health Metrics and Evaluation.25
As the treemap shows, the boxes representing the numbers for child deaths in 2017 are almost always smaller – reflecting the fact that deaths from almost all causes have fallen significantly.26
There are two major exceptions: the number of deaths from AIDS and the deaths caused by invasive non-typhoidal salmonella (iNTS) has increased. Although those numbers were higher in 2017 than 1990, the deaths from both causes have been decreasing since their peak in 2005.
While the total number of child deaths has more than halved from 11.8 million in 1990 to 5.4 million in 2017, the major causes of child deaths have largely remained the same.
15% of all child deaths in 2017 – Pneumonia and other lower respiratory diseases
Almost every seventh child who died in 2017 died of a lower respiratory infection (LRI), which has remained the leading cause of mortality over the past three decades. Pneumonia is the leading LRI. It is caused primarily by bacterial infections.27
12% of deaths – Preterm births and neonatal disorders
When we talk about child mortality we usually refer to mortality of children under the age of 5. But of all children who die, most do not come close to their fifth birthday: the younger a child is, the higher the risk of mortality. Three times as many children die in the first year of their lives than in the next four years. And the majority of children who die in their first year die in the neonatal period, the first 27 days after birth.
Premature birth (being born before the 37th week of gestation) is one of the major determinants of neonatal mortality and therefore complications arising from preterm birth are usually grouped with the neonatal disorders, as we did in our chart.28
Children born prematurely are at high risk of having birth injuries, underdeveloped organ failures, and attracting infectious diseases.29
10% of deaths – Diarrheal diseases
Every tenth child that died in 2017 died because of some diarrheal disease – rotavirus infection, cholera, shigellosis and other infectious diseases that result in diarrhea. The World Health Organisation (WHO) says that diarrheal diseases are "both treatable and preventable".30
Clearly, the fact that diarrheal diseases are the third leading cause of child mortality is simply inexcusable. As we will discuss in another post in this series, an increased coverage of oral rehydration therapy – an incredibly simple treatment for diarrhea – could help to prevent many of these deaths.
9% of deaths – Congenital defects
While classed separately from neonatal disorders, congenital birth defects are significant contributors to infant mortality as well.31 Congenital defects are defined as physical or genetic abnormalities present at birth and include neural tube defects, heart defects, Down syndrome, microcephaly and others.
45% of deaths – Infectious diseases
Infectious diseases have always been one of the major causes of child deaths, but the success of vaccination campaigns and antibiotic availability has done a great deal to reduce mortality from infectious diseases. Measles vaccination is a perfect example: the number of measles cases has shrunk by 86% since 1990. The WHO has estimated that between 2000 and 2017 measles vaccination has prevented 21.1 million deaths across Africa.32
Today we also have vaccines available for tuberculosis, meningitis, hepatitis, and whooping cough. The best way to protect children against malaria today is to provide insecticide treated bednets, but a new malaria vaccine implementation program is also underway. 33
The chart shows the annual change in the number of child deaths from leading causes from 1990 onwards. Note that you can view this data for any country using the "change country" button on the interactive chart.
Here we see a dramatic decline in deaths from several causes: lower respiratory infections (pneumonia); preterm birth complications; and diarrheal diseases saw dramatic declines globally in recent decades. Vaccine coverage also saw a dramatic decline in deaths from measles.
Child deaths from malaria and HIV/AIDS increased over the 1990s and into the 21st century. However, more effective prevention for malaria in the form of bednets; and progress on prevention of mother-to-child transmission of HIV (PMCT) means these are now also in decline.
In the following sections we take a closer look at the leading causes of child mortality one-by-one. In doing so, we also try to understand how can we reduce the number of children dying from each cause using treatments and interventions which are already available at our disposal.
Pneumonia is the leading cause of child mortality
Where are children dying from pneumonia?
Why are children still getting pneumonia?
How can we reduce the number of children dying from pneumonia?
Diarrheal diseases are one of the biggest killers of children worldwide
In 2017, almost 1.6 million people died from diarrheal diseases globally.
This is more than all deaths from all 'intentional injuries' combined in the same year: almost 800,000 died from suicide, 405,000 from homicide, 130,000 in conflict, and 26,500 from terrorism – in total 1,355,000.60
As the visualization shows, one-third of all who died from diarrheal diseases were children under five years old. For most of the past three decades under-5s have accounted for the majority of deaths from diarrheal diseases – back in 1990 it killed 1.7 million children.
Diarrheal disease was the cause of every tenth child's death in 2017 – more than half a million of the 5.4 million children that died in 2017 died from diarrheal disease.
Diarrheal diseases are the third leading cause of child mortality globally, falling just behind pneumonia and preterm birth complications.
Where are children dying from diarrheal diseases?
The death rate from diarrheal diseases is highest in the world's poorest countries: this chart shows the relationship between the death rate from diarrheal diseases and the country's average income.
The death rate from diarrheal diseases in many of the poorest countries is higher than 100 annual deaths per 100,000 children. In those countries with the worst health – including Madagascar, Chad and the Central African Republic – the rate is higher than 300 per 100,000.
In high-income countries the death rate is very low. In many European countries, but also some rich Asian countries the rate is below 1 per 100,000 per year.
At lower levels of income risk factors for diarrheal diseases such as lack of access to clean water, rotavirus vaccine availability, undernutrition, stunting and others are the most prevalent.61
Why are children still dying from diarrhea?
There are two main reasons why the number of children dying from diarrhea is still so large – the prevalence of diarrhea-associated risk factors and the lack of access to essential treatment.
The figure shows the number of deaths associated with the major risks factors for diarrheal diseases: unsafe drinking water, poor sanitation and malnutrition are responsible for the largest portion of deaths.
Since 1990 we have made a lot of progress in reducing these major risks; you can read more in our research entries on Hunger and Undernourishment, Extreme Poverty and Water Use and Sanitation. But continued progress is still needed.
In addition to reducing exposure to risks factors, increasing access to oral rehydration therapy (ORT), therapeutic zinc use and the coverage of rotavirus vaccines were all shown to be essential for reducing the burden of diarrheal diseases in children.62
How can we stop child deaths from diarrhea?
Diarrheal diseases are both 'preventable and treatable', as the WHO says, because we already know how to deal with many of the risk factors that may lead to diarrhea and, if diarrhea cannot be avoided, we know how to treat it.
The table below lists the range of interventions available for the treatment of diarrhea we have today.63
Some of these interventions, such as ORS, breastfeeding and improvements in sanitation broadly target all-causes of diarrhea, whereas, vaccination and antibiotic use are specifically directed against the causative agents of the disease.
Water, sanitation and hygiene (WASH) interventions are the best way to prevent diarrheal diseases. Hand washing with soap, better water quality and better sanitation have been shown to reduce the risk of diarrheal infections by  47%, 17% and 36%, respectively.64
Educating mothers about the importance of breastfeeding is also important. Breastfeeding allows for the transfer of maternal immunity to the child – in developing countries infants that are not breastfed are six times more likely to die from infectious diseases, such as those causing to diarrhea, in the first 2 months of their lives.65
Another way to prevent diarrheal diseases is vaccination. Until relatively recently, there were few vaccines available to prevent diarrheal diseases. Cholera vaccine has been licensed since 1991 but it is primarily given to travelers and used as an outbreak control measure. This is because targeted immunization combined with other sanitary measures is more cost-effective than immunizing every individual with a vaccine that only provides a few years of protection.66
In 2006, however, new vaccines against rotavirus – the leading cause of childhood diarrhea as the treemap above shows – have been introduced. The most recent studies show that, while the effectiveness of the new rotavirus vaccines vary across different countries, it works well in protecting children against rotavirus disease.67
We will explore the success, potential and limitations of rotavirus vaccines in an upcoming post.
When preventative measures fail, several options for the treatment of diarrheal diseases are available, including nutritional interventions and antibiotic use when necessary. But the single best treatment for diarrheal diseases is a surprisingly simple mixture of water, salt and sugar: otherwise known as the oral rehydration solution.68
The estimates of ORS effectiveness vary by source, with some suggesting that the current use of ORS helps to prevent 69% of diarrheal deaths and, if its coverage would be increased close to 100%, 93% of diarrheal deaths could be prevented.69
Potential of interventions to prevent the burden of diarrheal diseases in childhood70
| Intervention | Estimate of the effect size |
| --- | --- |
| Handwashing with soap | 48% risk reduction |
| Improved water quality | 17% risk reduction |
| Excreta disposal (improved sanitation) | 36% risk reduction |
| Breastfeeding education | 43% increase in exclusive breastfeeding rates at day 1, 30% increase until 1 month, and 90% increase from 1-6 months |
| Preventive zinc supplementation | 13% reduction in diarrhea incidence, but no effect on mortality |
| Therapeutic zinc supplementation | 46% reduction in all-cause mortality and 23% reduction in hospitalization due to diarrhea |
| Rotavirus vaccines | 74% effectiveness against very severe rotavirus infection; 61% against severe; 47% reduction in hospitalization |
| Cholera vaccines | 52% effective against cholera infection |
| Oral rehydration solution (ORS) | 69% reduction in diarrhea-specific mortality |
| Dietary management for diarrhea | 47% reduction in diarrhea treatment failure and 47% reduction in treatment failure |
| Antibiotics for cholera | 63% reduction in clinical failure rates |
| Antibiotics for Shigella | 82% reduction in clinical failure rates |
| Antibiotics for cryptosporidiosis | 52% reduction in clinical failure rates |
| Community-based interventions (home visits and healthcare promotion) | 160% increase in ORS use and 80% increase in zinc use. 9% increase in seeking care for diarrhea and 75% reduction in inappropriate antibiotic use |
The majority of deaths from malaria are among children under-5
At a global level, the most vulnerable age group to malaria deaths are children under five years old — in 2017 they accounted for 57 percent of total deaths. The number of deaths from malaria tends to decrease with age; with those over 70 years old accounting for around five percent. When age categories are combined, children under 14 years old account for more than two-thirds of mortality.
Where are children dying from malaria?
In the map here you see the number of childhood deaths from malaria by country.
Of the more than 350,000 deaths from malaria in children under-5 in 2017, almost half of them have occurred in just two countries — Nigeria and the Democratic Republic of Congo.71
The highest mortality rates from the disease are in Burkina Faso and Sierra Leone, where 563 and 622 children per 100,000 died of the disease in 2017.
How can we reduce childhood deaths from malaria?
Even after a century of progress against malaria, the disease remains devastating for millions. The World Health Organization estimates that 216 million suffered from the disease in 2016.72
Fortunately only a small fraction of malaria victims die of the disease. But those who die are the very weakest; three out of four malaria victims are children younger than 5 years old making it one of the leading causes of child mortality in the world today.73
The world is making progress against malaria
In the history of improving population health, the most important progress is made in the prevention of disease; for infectious diseases this means interrupting its transmission. But humanity's most ingenious and successful way of transmission interruption – immunization through vaccines – is not yet available for malaria. However, very recent developments are encouraging; at the time of writing the WHO has rolled out a first large-scale trial of a vaccine.74
But we have other weapons in our arsenal.
One line of humanity's attack on the mosquito-borne fever is to progressively reduce the area in which malaria is prevalent. A second one is to prevent the transmission of the parasite where it is still prevalent. It is a surprisingly simple technology that stopped transmission and saved the lives of millions in the last few years alone.
The years since the turn of the millennium were an extraordinarily successful era in the fight against malaria. The two maps shows the change of malaria mortality for children in the region where the disease causes the highest death toll.
From 2000 to 2015 the number of malaria deaths has almost halved, from 840,000 deaths per year to 440,000, according to the World Health Organization.75
A recent publication in Nature76 studied what made this success possible. The focus of the study was Africa, where – as the chart shows – most of the recent reduction was achieved. The researchers found that the single most important contributor to the decline was the increased distribution of insecticide-treated bed nets. The bed nets protect those who sleep under them.
The insecticide used on the bed nets kills the mosquitoes. So a community where a sufficiently high number of people sleep under bed nets the entire community is protected, regardless of whether they themselves use the bed nets. This is similar to the positive externality effect that vaccination has on communities.
The authors of the Nature study estimate that bed nets alone were responsible for averting 451 million cases of malaria in Africa between 2000 and 2015. The other two interventions that were important for the reduction in the disease burden of malaria were indoor residual spraying (IRS) and the treatment of malaria cases with artemisinin-based combination therapy (ACT). The study's authors estimate that the three interventions averted 663 million cases of malaria in the 15 year period. Insecticide-treated bed nets were by far the most important intervention of the three, preventing 68% of the averted cases.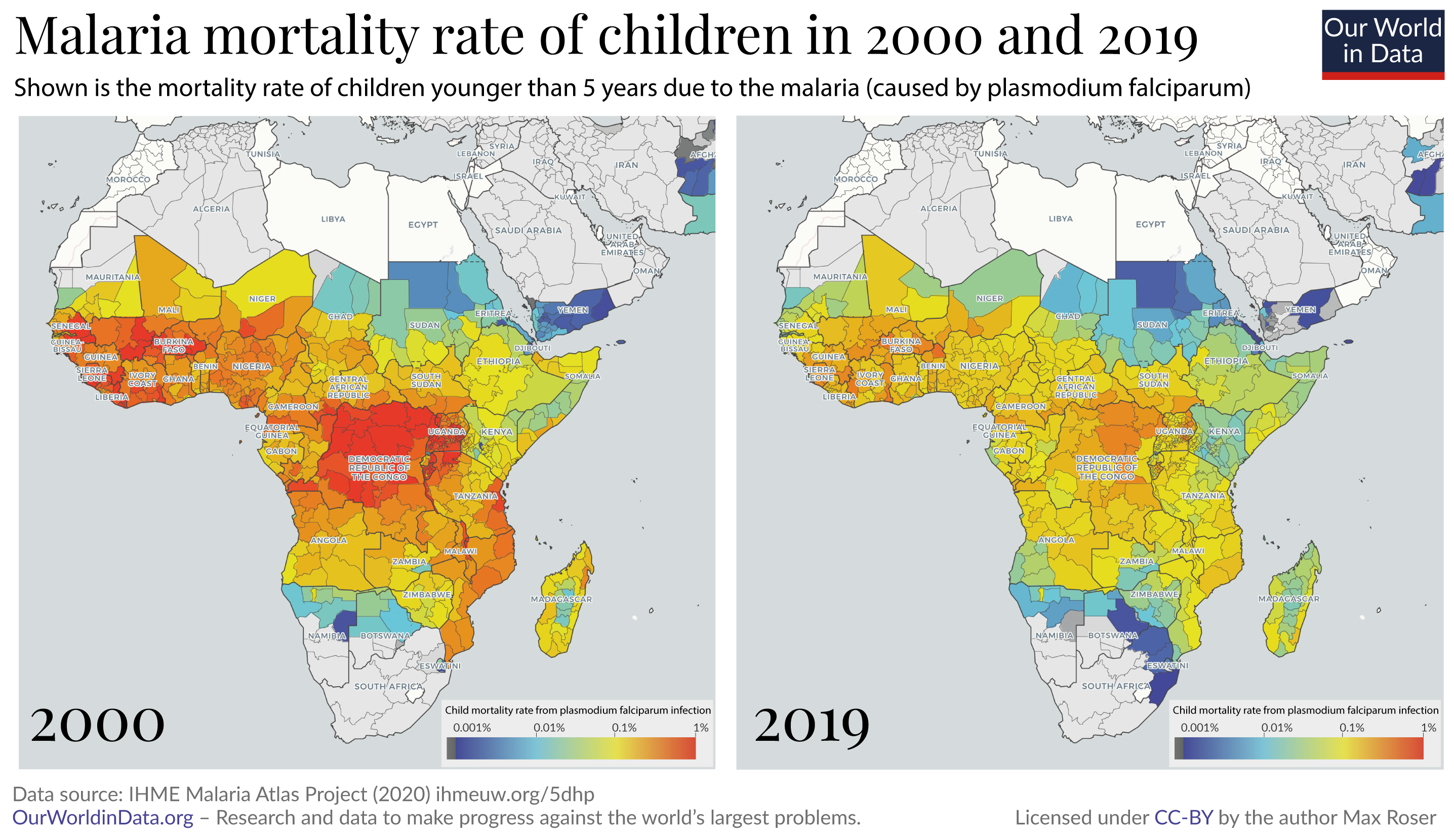 We can do more
Progress never happens by itself. For millennia our ancestors were exposed to the malaria parasite without defense; the fact that this changed is the achievement of the scientific and political work of the last few generations.
Today we are in the fortunate situation that we have some decades of progress behind us: We can study what worked and use this knowledge to go further.
To continue the improvement in global health more has to be done, and more can be done. Some of the most important research in global development asks the question where donations can do the most good. It's not always the case that donations do much good. Often it is unfortunately not possible to achieve much progress by donating money because funding is not the limiting constraint or the proposed solution does not actually work. But in some areas we can achieve extraordinary progress by making funding available. A charity evaluator that is doing very rigorous work is 'GiveWell' and on the very top of their recommended charities are two organizations that are fighting malaria – the Against Malaria Foundation and the Malaria Consortium.
The diseases many children die from are preventable – we therefore know that we can continue this reduction of child mortality, if we choose to do so. What is different from the past and what makes the deaths of children so appalling today is that we now know how to prevent them.
The evidence shows that the fight against malaria is still underfunded; it will depend on this funding and work whether it is possible to continue our progress against it.78
It requires the commitment from governments around the world, but it is also something where each of us individually can contribute. Every one of us can contribute so that we continue to reduce the number of children that die in the world.
---
If you want to know more before you donate, GiveWell's information on malaria can be found here.
And if you want to donate right away to help the successful fight against malaria you can do so via the page of GiveWell's recommended charities.
Children living with AIDS
In children with HIV, transmission has typically occurred from the mother (mother-to-child-transmission; MTCT) either during pregnancy or childbirth, or through breastfeeding. The chart shows the total number of children aged 14 years old and under who are living with HIV. Globally the number of children living with HIV peaked in 2005 at approximately 2.1 million. This has since declined to 1.8 million in 2017.
'Orphaned' children are defined as those who have lost either one or both parents from AIDS. This does not necessarily imply that children orphaned by AIDS have HIV themselves (although in some cases HIV has been transmitted from mother-to-child). The chart shows the number of children (aged 17 and under) orphaned from AIDS deaths.
Where do most new cases of AIDS in children occur?
The map shows the total number of children newly infected with HIV each year. Globally — with similar trends at national levels — the number of new infections in children peaked around the early 2000s (globally at 420,000 new infections per year) followed by a rapid decline over the last decade. In 2017 an estimated 180,000 new children were infected with HIV.
How do we prevent children from dying from AIDS?
Given that majority of AIDS cases in children are due to the virus transmission from mother to child during pregnancy, stopping the mother-to-child transmission is key to preventing children from getting newly infected with HIV.
The chances of HIV positive mother transmitting the virus to a child are between 15% and 45%. Effective prevention of mother-to-child transmission (PMTCT) services can reduce the chances of virus transmission to newborn to 5%.79
PMTCT services include preventative measures such as providing antiviral therapy for mother and newborn, correct breastfeeding practices, and early child testing for HIV infection.
The visualization shows the number of child infections averted from coverage of ART in mothers.

You can explore the number of new HIV infections prevented from PMTCT as a result of antiretroviral therapy across the world, here.
What children die from in the first few days or weeks of life is very different to the months and years that follow. So, too, are the interventions to prevent these deaths. Understanding the age at which children die is therefore critical if we're to focus on interventions that will save the most lives.
Children are most likely to die in the first few days of life
In the visualization we see the total number of child deaths by life stage. More than one-third — 1.86 million (34.5%) — died in the first week of their lives. This is a devastatingly large number: it means that, on average, 5,096 children younger than one week die every day.80
In fact, if we look at the probability of death is the highest in the first 24 hours of life. Newborns are four times more likely to die in the first 24 hours of life than in the next 24 and nine times more likely than on their 7th day of life.81
Child mortality rates have fallen dramatically, but the progress has not been even across all child ages 
While child mortality has fallen across all age groups, the rate of reduction has not been even.
The world has been much more successfully in preventing deaths of older children than young infants. Since 1990, mortality has fallen by:
65% for children aged 1 to 4 years old;
58% for infants (younger than one year);
49% for neonates (younger than four weeks); and
39% for babies younger than one week.
Why have we made greater progress in saving older children? 
Older children tend to die from diseases such as diarrhea, pneumonia, measles, and meningitis. These can now be prevented through vaccination. Over the last decades, the world has made rapid progress in the fight against these vaccine-preventable diseases. And when a disease can't be prevented, we can also treat children with interventions, such as oral rehydration therapy.82 
But the causes of death in the youngest children are very different. Pre- and post- birth complications – which are the major cause of death in the early days of life – cannot be directly prevented by these types of interventions.
More focus is needed on mortality in the first days of life
This means that as child mortality rates decline across the world, our attention must turn increasingly towards saving babies in the first days of life. We need to make much faster progress in addressing neonatal causes of death.
Neonatal deaths can be prevented by provision of basic care for mothers and newborns. Over the past decades the coverage of many of these interventions has increased: more women receive antenatal care, more births are attended by a skilled healthcare worker, more newborns are exclusively breastfed. 
But the coverage of these and other interventions is still far from sufficient. In 2014 the coverage of simple thermal care for newborns was just 11%; coverage of syphilis detection and treatment in neonates was just 23%; only 49% of births were delivered using clean birth practices; and just 8% of newborns with infections received oral antibiotics.83
If we're to continue the progress against childhood mortality we need to increase our focus on interventions that can protect the youngest among us.
What are neonates dying from?
The chart here shows the major causes of death during the first month of child's life.
More than 600,000 neonates died in 2017 due to complications arising as a result of preterm birth. Premature birth is common globally, around 1 in 10 newborns is born prematurely every year.84 However, there is a large gap between mortality rates due to preterm complications between high and low income countries as we discuss below.
Neonatal encephalopathy due to birth asphyxia and trauma is the second leading cause of death in the first month of child's life. Close to half a million newborns died due to this condition in 2017. Neonatal encephalopathy is defined by abnormal neurological function in the first days of life and is often a result of complications during the child's delivery.
Preterm birth complications is the leading cause of death among neonates
In the map you see child mortality rates due to complications arising as a result of preterm birth. 

Globally, preterm birth mortality rates have been falling since 1990. 1.28 million children died as a result of premature birth complications three decades ago. In 2017 that number has halved to 0.65 million. Some countries have made impressive progress in recent decades: Brazil, Peru and Egypt, for example, now see close to five times fewer deaths from premature births compared to almost 30 years ago.

But huge disparities between countries still exist. The highest mortality rate due to preterm birth complications is in Sudan, where 288 out of 100,000 preterm babies die. Contrast that to Japan, which has the lowest preterm birth mortality rates in the world of only 4 — that's more than 70-fold difference.

What we can do to reduce preterm mortality rates?
There are two ways to reduce preterm mortality rates: trying to reduce the prevalence of preterm births and providing better care for babies who are born prematurely.
Approximately 70% of preterm births are spontaneous.85 While the list of factors associated with spontaneous preterm delivery is long,86 the literature provides relatively few interventions that have been reliably assessed for their effectiveness in reducing preterm birth rates. A recent systemic review of the literature by the Cochrane Library has identified four interventions that had a positive effect on reducing preterm births:87
We should note that zinc supplementation was found to be effective in studies based on low-income populations. Therefore, the study authors suggest that this may be a consequence of a general maternal undernutrition. Indeed, multiple observational studies have indicated that maternal nutrition may have an impact on the length of pregnancies.92 This factor is particularly important in Africa and Southeast Asia, where both the mortality due to preterm complications and undernutrition are most common.  
In the right settings, most premature babies can be taken care of with simple interventions. 
According to a study by Saifon Chawanpaiboon and others, the majority (85%) of premature births fall into moderate or late preterm period, defined as being born between 32 and less than 37 weeks of gestation.93 These are the babies for whom availability of minimal interventions will be the most effective.
A 2014 study published in the journal The Lancet has estimated that if available interventions would reach high coverage rates (90-99%), by 2025, we could reduce deaths due to prematurity by 58% from their levels in 2012.94 This means reducing the total number of deaths from prematurity from more than 900,000 in 2012 to below 400,000 by 2025. 
Here you see a table of interventions from the same study, which summarises the measures which would help us to reach the 58% reduction. The simplest intervention — hospital and kangaroo care — would be responsible for 50% of averted deaths. Providing mothers with antenatal steroids,95 would be responsible for additional 31% of reduction. 
The key care required for preterms is provision of thermal insulation and feeding, both of which can usually be provided by the mother through kangaroo care. Kangaroo care involves early breastfeeding and 24-hour skin-to-skin contact between the mother and newborn. Research reviews have shown that kangaroo care can reduce neonatal mortality risk by as much as 51%.96 However, globally, the current predicted coverage of kangaroo care is expected to be extremely low.97
Effect of interventions that can reduce neonatal mortality due to preterm complications. Expressed as percentage reduction in child mortality due to preterm complications.98
| Intervention | Effect size (%) |
| --- | --- |
| Hospital care of preterm babies including kangaroo mother care | 50 |
| Antenatal steroids for preterm labour | 31 |
| Neonatal resuscitation | 8 |
| Labour and delivery managenment | 5 |
| Balanced energy supplementation | 2 |
| Micronutrient supplementation | 2 |
| Antibiotics for premature rupture of membranes | 2 |
Child mortality by sex
Child mortality and income level
Inequality by socio-economic class
Better education of women reduces child mortality
Health care and child mortality
When more infants survive – fertility goes down
Definitions
Child mortality is the probability per 1,000 live births that a newborn baby will die before reaching age five under current age-specific mortality patterns.
Infant mortality is defined as the number of deaths of children under 1 year of age per 1,000 live births.
A neonatal death is defined as a death during the first 28 days of life (0-27 days).
The neonatal mortality rate is defined as the number of neonatal deaths per 1000 live births.
Data Quality
The uncertainty associated with the estimates of child mortality can be understood if one compares different data sources. The UN Inter-agency Group for Child Mortality Estimation does this for each country of the world. Here is the chart on the child mortality of Brazil as one example. On the same website the differences between various data sources can be studied for a large number of countries.
Country averages of infant mortality sometimes obscure the variation in infant mortality between regions within the country. Storeygard, Balk, Levy and Deane (2008) assembled a data-set that looks at the sub-national distribution of infant mortality.131
 The data set covers over 10,000 national and subnational units worldwide. It is benchmarked to the year 2000. Understandably, many of the countries with the highest national infant mortality averages have lots of subnational variation in these rates, but even some of the most highly developed nations still see massive variation in infant mortality at the regional level. The most extreme example is China, which experiences an infant mortality rate near 0 in some regions but a rate around 325 at the other extreme.
The following map visualizes the subnational variation in infant mortality rates from the previous chart.